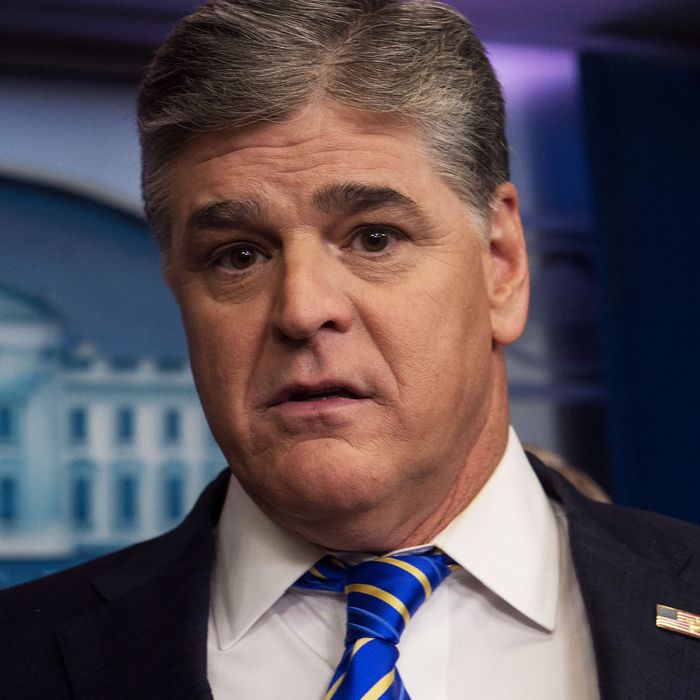 The picture of journalistic integrity.
Photo: Nicholas Kamm/AFP/Getty Images
During a federal court hearing on Monday, lawyers for Trump fixer Michael Cohen attempted to shield the identity of a prominent person that Cohen has been secretly advising. But after several minutes of back-and-forth, Judge Kimba Wood ruled that, if Cohen wanted some of the files seized in raids on his home and office last week to be protected under attorney-client-privilege rules, he had to disclose the identity of the person in open court.
The big reveal turned out to be a doozy.
Cohen's mystery client is Sean Hannity, Trump's No. 1 Fox News cheerleader, who has advanced the idea that the raids on Cohen's home and office last week are part of a deep-state conspiracy to bring the president down.
Hannity has been on this conspiratorial trip since President Trump took office, but now we know that he had an extra, very personal stake in the latest phase of the multiple investigations into Trump-related malfeasance. And while Hannity is not known for avoiding conflict of interest, or for ethical journalism in general, his failure to disclose his connection to Cohen may be a new nadir, even for him.
And that's before even getting to what, exactly, Cohen was doing for Hannity. Cohen arranged secretive payouts to women for two other two clients, Trump and Elliott Broidy, the now-former deputy finance chairman of the Republican National Committee.
On his radio show Monday afternoon, Hannity responded forcefully to the revelation.
After denying that he had paid Cohen any attorney fees, he said that any matters the two discussed would be covered under attorney-client-privilege rules, which he had apparently requested in a not-at-all sketchy way:
He also said that the matters discussed between him and Cohen did not involve a third party, as they did with Trump and Broidy.
He repeated his claims on Twitter:
(Thankfully for Hannity, New York real estate is a famously above-board business.)
Hours after Hannity's name was revealed, Judge Wood dealt another blow to Cohen's lawyers, dismissing their attempt to view documents seized in the raid before federal prosecutors.