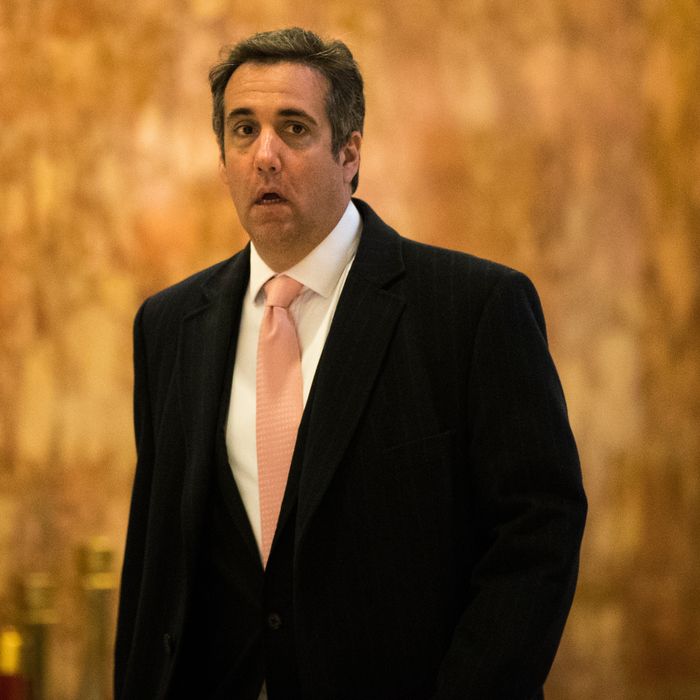 Uhhhh.
Photo: Drew Angerer/Getty Images
When the FBI raided the home and office of Michael Cohen, Donald Trump's personal lawyer and longtime fixer, they were reportedly looking for information about hush payments made to women who say they've slept with Trump. Some Trump insiders fear the FBI found much more, though.
As it turns out, Cohen has a habit of recording his conversations and some Trump allies fear those recordings are now in the hands of the Feds, the Washington Post reports.
"We heard he had some proclivity to make tapes," a Trump adviser told the Post. "Now we are wondering, who did he tape? Did he store those someplace where they were actually seized? … Did they find his recordings?"
Cohen made recordings, the Post says, so he could later use them as "leverage." It was a practice that began when Trump was but a bloviating businessman. It continued after his transition into a politician.
In one instance, Cohen played a recording of a conversation he had with someone else to a Trump campaign official to demonstrate that he was in a position to challenge that person's veracity if necessary, an associate recalled.




Cohen indicated that he had something to use against the person he had taped, the associate said.
CNN reports that Cohen's penchant for recording conversations was so well known on the campaign that staffers went out of their way to talk to him outside of his office for fear of getting caught on tape.
Legal experts told the Post that Cohen's recordings could be a "gold mine" for federal investigators. "If you are looking for evidence, you can't do any better than people talking on tape," former Watergate prosecutor Nick Akerman told the paper.
The good news for those worried about the possible seizure of the recordings is that investigators won't get access to them until it is determined that they are within the scope of the search warrant and not covered by attorney-client privilege. But as we've noted, attorney-client privilege does not apply to conversations related to the commission of a new crime.