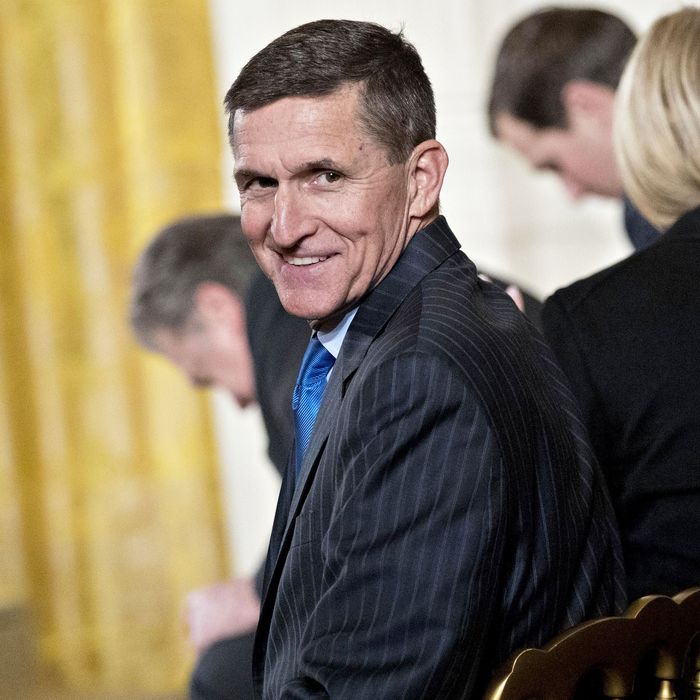 "I'm back!"
Photo: Andrew Harrer/Bloomberg via Getty Images
When we last heard from Michael Flynn, President Trump's former national security adviser, he was pleading guilty to lying to the FBI. Now, more than year after his 24-day stint in the Trump administration came to an end, the retired Army general is beginning to creep back into public life.
Flynn's comeback began a month ago in California, where he appeared at a campaign event for California Republican Omar Navarro, a congressional candidate who touts endorsements from Joe Arpaio, Herman Cain, and Alex Jones, among others. It continued this week with a speech in Manhattan at an event held by the London Center for Policy Research, an organization named not for the British capital, but for the Newsmax columnist Herbert London.
A Politico reporter confronted Flynn outside the event, and the 59-year-old said he's "doing great." He added: "I don't want to talk to you." Flynn's brother, who is raising money for Flynn's legal defense fund, was more forthcoming.
"General Flynn is moving on with his life and this speech is part of that endeavor," Joseph Flynn told Politico. "There are lots of people who want to hear his voice again."
Flynn appeared at the event, hosted at the Union League Club in Murray Hill, as a part of the think tank's Chairman's Circle Lecture Series. According to an online invitation, Flynn was there to discuss "Directions in Foregin [sic] Policy." Though a description of the speaking series, which will also feature former senator Joseph Lieberman and Henry Kissinger, says tickets cost $10,000, a spokesperson for the London Center told Politico that Flynn was not paid.
Flynn picked an awkward time to emerge from his self-imposed exile. On the same day as his Manhattan speech, leaked memos from former FBI director James Comey showed that President Trump, an ardent defender of his in public, said privately that Flynn "has serious judgment issues."