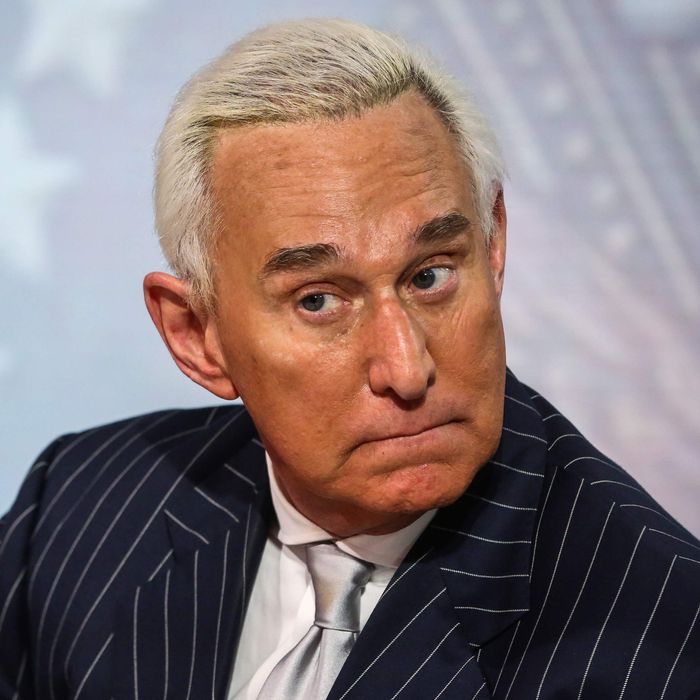 Funnyman Roger Stone.
Photo: Christopher Goodney/Bloomberg via Getty Images
The Wall Street Journal reports that, according to a person "familiar with the matter," Special Counsel Robert Mueller is investigating whether Trump campaign adviser Roger Stone dined with WikiLeaks founder Julian Assange in 2016, ahead of Assange's release of hacked emails damaging to Hillary Clinton.
In an email to former protégé, now enemy Sam Nunberg on August 4, 2016, which the Journal obtained, Stone put things pretty plainly, writing: "I dined with Julian Assange last night." The very next day, Stone tweeted, "Hillary lies about Russian Involvement in DNC hack – Julian Assange is a hero." (His Twitter account has since been suspended.)
But in an interview with the paper, Stone wielded a defense often used by President Trump and his defenders: He was just joking.
"I never dined with Assange," Stone said, maintaining that "there was no such meeting. It's not what you say, it's what you do. This was said in jest."
If this was a joke, it was a curiously unfunny one. But there is some evidence that Stone, who has a history of saying or doing whatever it takes to further his political agenda, did not actually make the trip to the Ecuadorian embassy in London, where Assange has been holed up since 2012. He provided the Journal with screenshots showing a flight for someone named "Roger" booked from Los Angeles to Miami on the night in question; Delta confirmed that the ticket was a real one, though privacy policies prevented it from confirming whether Stone was actually onboard.
Even if Stone didn't share any appetizers with Assange, his past claim that he didn't communicate with him at all in 2016, which he repeated to the Journal, is looking increasingly shaky.
As the Washington Post reports, Stone has already contradicted himself on this point, claiming in an August 8, 2016, speech that he had been in contact with Assange, then denying it ten days later.
And Stone seems to have had knowledge of WikiLeaks' plans before the general public. He infamously tweeted "it will soon [be] the Podesta's time in the barrel" weeks before WikiLeaks released a batch of emails hacked from the account of John Podesta, Hillary Clinton's chief of staff. He continued to praise Assange and forecast other leaks over the next several weeks.
With the Mueller investigation still cloaked in secrecy, it's hard to say what this all means for Stone, much less President Trump. But it looks more and more like a Trump campaign adviser interacted with an organization that was likely working with Russian intelligence to release harmful information on Trump's opponent. If that's not collusion, what is?