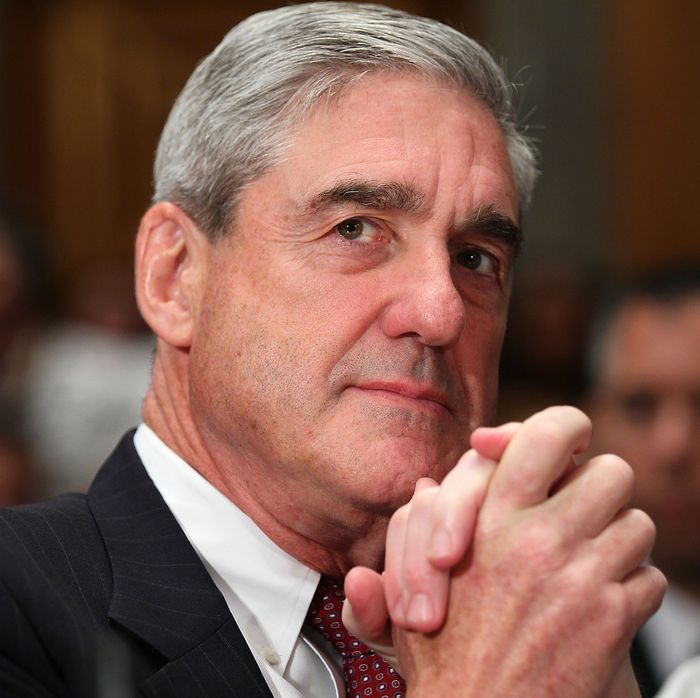 Clear your calendar.
Photo: Alex Wong/Getty Images
In the past year, Ty Cobb, the lead White House lawyer on the Trump-Russia case, has become famous for two things (aside from his glorious mustache): urging Trump to cooperate with Special Counsel Robert Mueller and repeatedly giving the president unrealistic end-dates for the probe. Unfortunately for Trump's legal team, there's bad news on both of those fronts.
The Washington Post's Carol Leonnig and Robert Costa reported on Tuesday night that Mueller has informed Trump's team that he considers the president a subject of his investigation into Russia's 2016 election interference, but at this point he isn't a criminal target. That sounds like exactly what Trump wants to hear — which is why it's so dangerous for the president.
As the Post explains, Mueller may be baiting Trump into sitting for an interview, which no sane lawyer would recommend, by betting that he wouldn't understand the difference between a target and a subject. This is what the Justice Department guidelines say:
A "target" is a person as to whom the prosecutor or the grand jury has substantial evidence linking him or her to the commission of a crime and who, in the judgment of the prosecutor, is a putative defendant …




A "subject" of an investigation is a person whose conduct is within the scope of the grand jury's investigation.
Some Trump advisers have noted that a subject of an investigation can easily become a target (particularly if they say something incriminating under oath). But sure enough, the president and some of his allies have reportedly taken this to mean he's almost in the clear. And if that's the case, why not just wrap things up by chatting with the special counsel?
The president has privately expressed relief at the description of his legal status, which has increased his determination to agree to a special counsel interview, the people said. He has repeatedly told allies that he is not a target of the probe and believes an interview will help him put the matter behind him, friends said.
The second bit of bad news concerns the revelation that Mueller is preparing two separate reports: one about Trump's actions in office and potential obstruction of justice, and another about Russia-related activities. Mueller is saying he needs to interview Trump to wrap up his probe because he needs to understand if he was acting with corrupt intent — a key consideration in obstruction cases.
Costa dropped one key detail in a late-night appearance on MSNBC: Mueller is looking to release the obstruction report in June or July.
This may give Trump hope that if he just sits down with Mueller, that part of the probe can be done in a matter of months. But that could turn out to be a nightmare for congressional Republicans, and perhaps the president too.
It was already clear that Mueller's work wouldn't be wrapped up before the midterms, as Paul Manafort's two trials are set to start in July and September. But this latest report raises the possibility that in addition to having the midterms marred by Manafort news and sporadic Mueller-related leaks, Republicans will be dealing with a report on Trump's inappropriate behavior in office — with the promise of Russia revelations to come.
The Post noted that Mueller is likely to present Congress with fodder for impeachment, rather than charging Trump himself:
Still, several legal scholars and impeachment experts believe Mueller may conclude he does not have the authority to charge a sitting president with a crime under an opinion written by the Justice Department's Office of Legal Counsel in 1973 and reaffirmed in 2000.




If Mueller finds Trump engaged in criminal conduct, he could detail it in a report, experts argue, and let Congress to [sic] decide whether to launch impeachment proceedings based on Mueller's findings.
Mueller must privately share his findings with Deputy Attorney General Rod Rosenstein, who will then decide whether they should be made public. If the obstruction report is completed in early summer, and Rosenstein releases it in a timely fashion, it will hit just as the campaigns are ramping up. Presuming Mueller finds something questionable in the nearly two dozen times Trump may have obstructed justice, GOP members of Congress will face new questions about why they aren't pursuing impeachment. And if Democrats do manage to take back the House, they may already have the necessary facts to take on Trump.
But who knows? If Republicans can keep their campaigns focused on their glorious tax cuts, maybe no one will pay attention to what Mueller's up to.