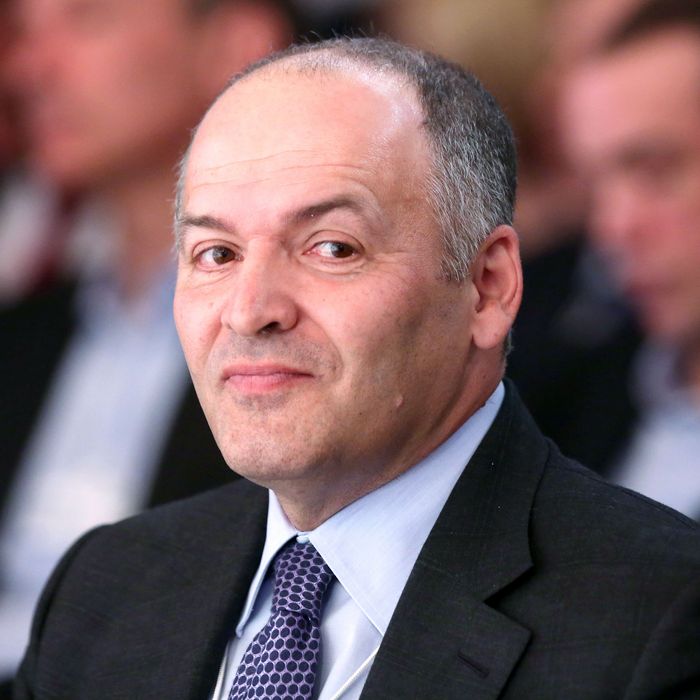 Victor Pinchuk is a big fan of Donald Trump's oratory.
Photo: Chris Ratcliffe/Bloomberg via Getty Images
Throughout the 2016 campaign, Donald Trump savaged Hillary Clinton for accepting speaking fees and charitable donations from "globalists" who sought to establish "open borders." Clinton, meanwhile, accused Trump of favoring Vladimir Putin over the European Union, especially on the issue of Russia's invasion of Ukraine.
And yet, in the fall of 2015, Donald Trump instructed a Ukrainian billionaire to donate $150,000 to the Trump Foundation (a now-defunct charity that had specialized in helping real-estate moguls secure legal aid and Tim Tebow memorabilia) as compensation for a speech the Republican candidate gave to a pro–European Union "strategy conference" in Kiev.
As the New York Times reports:
The special counsel is investigating a payment made to President Trump's foundation by a Ukrainian steel magnate for a talk during the campaign, according to three people briefed on the matter, as part of a broader examination of streams of foreign money to Mr. Trump and his associates in the years leading up to the election.




Investigators subpoenaed the Trump Organization this year for an array of records about business with foreign nationals. In response, the company handed over documents about a $150,000 donation that the Ukrainian billionaire, Victor Pinchuk, made in September 2015 to the Donald J. Trump Foundation in exchange for a 20-minute appearance by Mr. Trump that month through a video link to a conference in Kiev.
This latest peek behind Robert Mueller's curtain is a bit disorienting, for reasons alluded to above: Victor Pinchuk's conspicuous generosity to the Clinton Foundation — while Hillary Clinton was serving as secretary of State — was among the first pseudo-scandals to dog her campaign. In March 2015, The Wall Street Journal reported that Pinchuk's foundation had donated at least $8.6 million to her family's charity during her time in the Obama administration.
Meanwhile, the narrative about the Trump campaign's dealings with foreign oligarchs has not, generally, involved the mogul taking money from interests hostile to Putin and supportive of the (globalist, pro-open borders) European Union.
Further complicating matters, the payment to Trump was reportedly arranged by former Bill Clinton adviser Doug Schoen — the same Doug Schoen who withdrew his "support" from Hillary Clinton's campaign in October 2016, on the grounds that her presidency would be hobbled by scandals. "Our national security will continue to be jeopardized by ongoing investigations by the FBI," Schoen wrote, "and potentially the Justice Department and Congress, putting us at immediate risk of more assertive actions in Europe, Middle East and Asia by the Russians and Chinese" (thank god Trump won and spared America these risks).
Anyhow, on first blush, there's nothing obviously unlawful about Pinchuk's donation to the Trump Foundation. And accepting money from a billionaire with connections to a foreign government — while Donald Trump was running for U.S. president — is among the least shady things the Trump Foundation has done: Even if Pinchuk gave $150,000 to Trump's self-portrait slush fund with the intention of buying the candidate's favor on American policy toward Ukraine, there's little sign it worked. And anyhow, at the time the gift was given, there was very little reason for Pinchuk to believe that Trump would actually win the GOP nomination and then the presidency.
Nevertheless, the Pinchuk payment is yet another sign that the special counsel is scrutinizing the Trump campaign's relationships with foreign interests other than Russia — and, also, that Trump may be an equal-opportunity kleptocrat, as happy to take money from pro-EU forces in Ukraine as he was to take campaign advice from political operatives who served pro-Putin forces in that country.