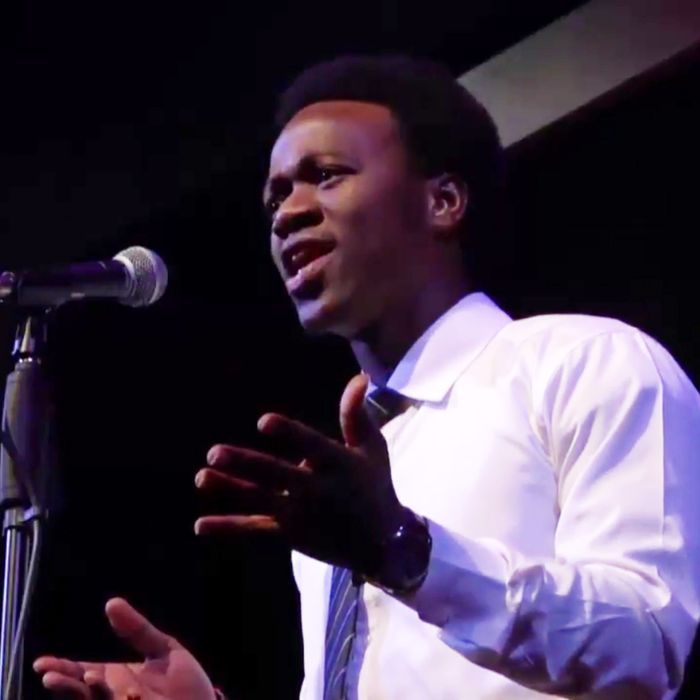 A high-school student in Maine is suing the National Endowment for the Arts after the agency disqualified him from a poetry contest because he isn't an American citizen or green card holder.
Allan Monga, a junior at Portland's Deering High School, fled Zambia last year and applied for asylum in the United States. Eight months later, he earned a spot in the Poetry Out Loud national finals, beating out nearly 10,000 students across Maine who participated. At the state finals, Monga recited poems by W.E.B. Du Bois, Stephen Crane, and Lord Byron:
In federal court on Wednesday, lawyers for the NEA argued that Monga, who has a work authorization and Social Security number, can't represent Maine in next week's competition in Washington, D.C.
"Why is it in the national interest to prevent someone like Mr. Monga from participating in this poetry contest?" U.S. District Judge John Woodcock asked federal attorneys.
"It's in the national interest to give the limited resources of the country to permanent legal residents and U.S. citizens," Assistant Attorney General Rachael Westmoreland responded, according to the Bangor Daily News. She said the competition's eligibility requirements were based on those set by Congress for the National Medal of Arts, the highest award the government gives artists, which requires recipients to be citizens or permanent residents. (Spokespersons for both the NEA and the Department of Justice declined to comment on this story.)
Monga's attorneys argued that a 1982 Supreme Court ruling affirming undocumented immigrants' right to public education should apply. "Poetry Out Loud is included in Deering High School's English curriculum," Melissa Hewey, an attorney for Monga, said. "He's working with his English teachers to do this."
"What they're saying is, the government has an important interest in immigration. Which is true if we were talking to the Department of Homeland Security," Hewey said. "But you look at the mission supposedly of the National Endowment for the Arts and it's to promote cultural diversity. So, how do you square those two things? I don't get it."
There's no indication that the NEA is cowing to the Trump administration's disdain for refugees (evident in the president's interpretation of his favorite "poem," "The Snake"). In fact, last fall, Poetry Out Loud clarified its rules page, adding a line that explained its citizenship requirements had been in place since 2006. So the NEA might've made this same argument if Hillary Clinton were president.
But if NEA administrators are taking Trump's views on immigration into consideration, they're probably doing so in light of the fact that Trump's 2017 and 2018 federal budget proposals called for the total elimination of the NEA. (Nonetheless, Congress fully funded the NEA in its new budget.)
But then there is still the time-sensitive question of whether Monga will be allowed to display his talents in next week's contest. "I think he could win the national finals," said Gregg Palmer, the principal at Deering High School. "There's something special about him. He's about the most centered, mature, and ethical person I know."
Judge Woodcock will decide on Friday whether Monga is eligible to attend the national finals.
"America is a country of immigrants," Monga said in an affidavit. "If someone works hard and earns something, no barriers should be placed in his or her way. I am the state champion and I should be given an equal opportunity."