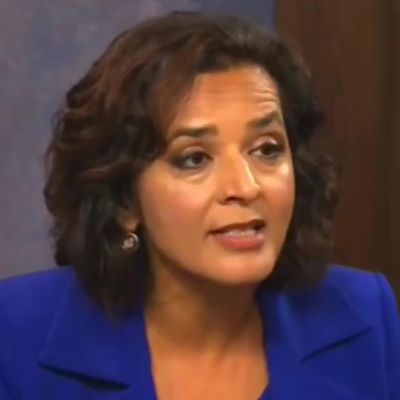 Democrat Hiral Hiral Tipirneni and Republican Debbie Lesko are in what could be a surprisingly competitive special election in Arizona.
Photo: PBS
Not that long ago Republicans thought that the March 14 special election in the 18th congressional district of Pennsylvania, a Trump stronghold, would offer a firebreak against the streak of adverse special election results. No such luck. But surely this month's special congressional election in the eighth district of Arizona, an even stronger GOP district, would be a breeze, right?
Maybe not. A new poll of district voters by Emerson College shows Democrat Hiral Tipirneni leading Republican state senator Debbie Lesko by a 46-45 margin.
The only two previous public polls of this race showed Lesko leading by double digits. But the early polling in Pennsylvania's 18th showed the Republican leading, too; it was Emerson College, as it happens, that first showed the Democratic winner Conor Lamb taking the lead.
Arizona's eighth, comprised of conservative suburbs to the north and west of Phoenix, went for Trump in 2016 by a 21 percent margin, compared to Pennsylvania's 18th district's 20 points. Its Cook Political Report Partisan Voting Index is R+13 (13 points more Republican than the national average); the 18th was R+11. And there's one respect in which the Arizona district is significantly less open to a Democratic candidate than was the district won by Conor Lamb: Republicans have a 17-point advantage in party registration in Arizona's eighth, while Democrats held a 6-point advantage in the Pennsylvania district.
There's one more difference between the two districts that's worth noting: Pennsylvania doesn't have a lot of early voting, while Arizona does. And that is yielding some data that leads Cook's David Wasserman (who has rated the race as Solid Republican) to suggest the Tipirneni boom may be an illusion:
Somebody's going to be wrong on April 24.