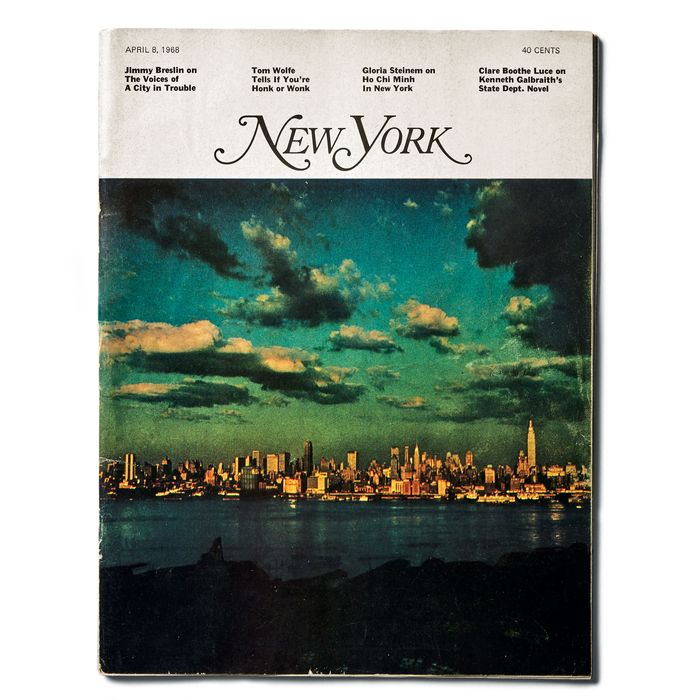 The cover date of New York's first issue was April 8, 1968. To mark our 50th birthday, we're looking back at the contents of that inaugural issue
We were looking at the future.
"Fiction and fact are indeed becoming hard to disentangle. I hope that, in 2001: A Space Odyssey, Stanley and I have added, constructively and responsibly, to the confusion. For what we have tried to do is to create a realistic myth, appropriate to our time; and we may well have to wait until the year 2001 itself to see how successful we have been." —Arthur C. Clarke, "Destination: 2001—Kubrick at the Controls"
Some of us saw a divided city.
"They drank with their hats on and folded Wall Street Journals under their elbows. They stood with faces that showed nothing and they stared at the bottles behind the bar. There were almost no sounds. A man choked on cigarette smoke. Ice clicked against the side of a mixing glass. A cigarette lighter snapped. Once, drinking was fun. Now it is some kind of morose duty. It was 5 p.m., and the market had closed higher and NBC radio's rate card had been raised 10 percent and Xerox shifted its account and Manufacturers named three new senior vice-presidents. And now the people who conducted this business stood in the dimness of the Oyster Bar at Grand Central station and they waited for trains, and for the whiskey in their hands to do something good to them …
"The smoking car began to fill up … The 5:51 to Stamford started up the tunnel under Park Avenue. The train comes out of the ground and becomes elevated at 96th Street, which is the street everybody in Harlem calls 'The Frontier' … The train moves very quickly. It comes past tenements with fire escapes where people put mattresses down and sleep in the heat of a summer night. It comes past sooty windows with cheap material tacked to the window frames to form curtains. You can see the dirt of East Harlem and Harlem better from the train than you can from the street. On the street, you can't see the alleys behind the tenements. You can from the train. It goes past alley after alley, all of them long mounds of garbage running for the entire block behind the houses. The rats live inside the mounds of garbage. The rats breed litters of eight and nine at a time … The rats share in the life of everybody in New York who lives above The Frontier." —Jimmy Breslin, in "Life in the City of Gold"
We were watching a show that, 50 years later, is back on Broadway.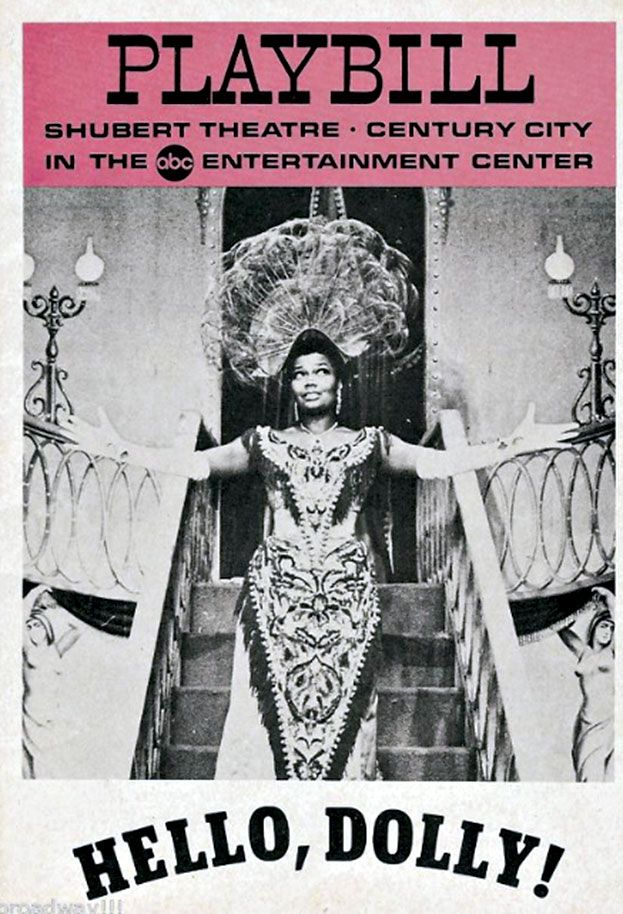 "Hello, Dolly! — In its fifth year, the musical gets a gigantic boost from its present Black Powerful cast — Pearl Bailey and Cab Calloway excelling and breathing new life into the old lines and measures."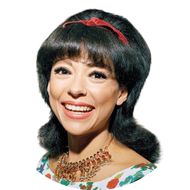 We were already looking for a good inexpensive meal.
Rita Moreno gave "The Underground Gourmet" a tour of La Marqueta, the Latin-food center in Spanish Harlem. She also gave New York her recipe for ropa vieja.
2 lbs. beef, cut up into chunks

2 oz. each cured ham and salt pork, cubed

3 leaves cilantro (coriander), chopped

3 or 4 sweet chili peppers, seeded and chopped

2 ripe medium tomatoes, unpeeled, chopped

1½ tsp. Lawry's Seasoned Salt

15 pimento-stuffed green olives

3 tsp. capers

1 to 2 8-oz. cans tomato sauce

½ can tomato paste

1 large onion, chopped

2½ qts. water

½ lb. pumpkin, chopped, without skin

1 tbsp. annato seeds (achiote)

1 can petit pois or equivalent amount of fresh peas
Put salt pork into hot iron kettle and render until crisp. Remove pork. Add annato seeds to hot fat, which will turn bright orange. When seeds begin to brown, remove pan from heat and remove seeds from fat. Put crisp pork back into fat and add, in the following order: onion, peppers, pumpkin, ham and coriander leaves. When onions are sauteed golden, add beef and cook until browned. Add water and bring to boil. Reduce heat and simmer, covered, 2 hours, adding water if necessary. Add olives, capers, tomatoes, and tomato sauce; cook for another hour, covered. Remove meat into bowl and shred it with two forks. Return meat to pot, add peas and tomato paste, and cook uncovered until sauce begins to thicken. Note: shredded meat tends to thicken sauce. Serve in bowl accompanied by white rice and habichuelas rojas (red beans in sauce).
We were talkin' to youse.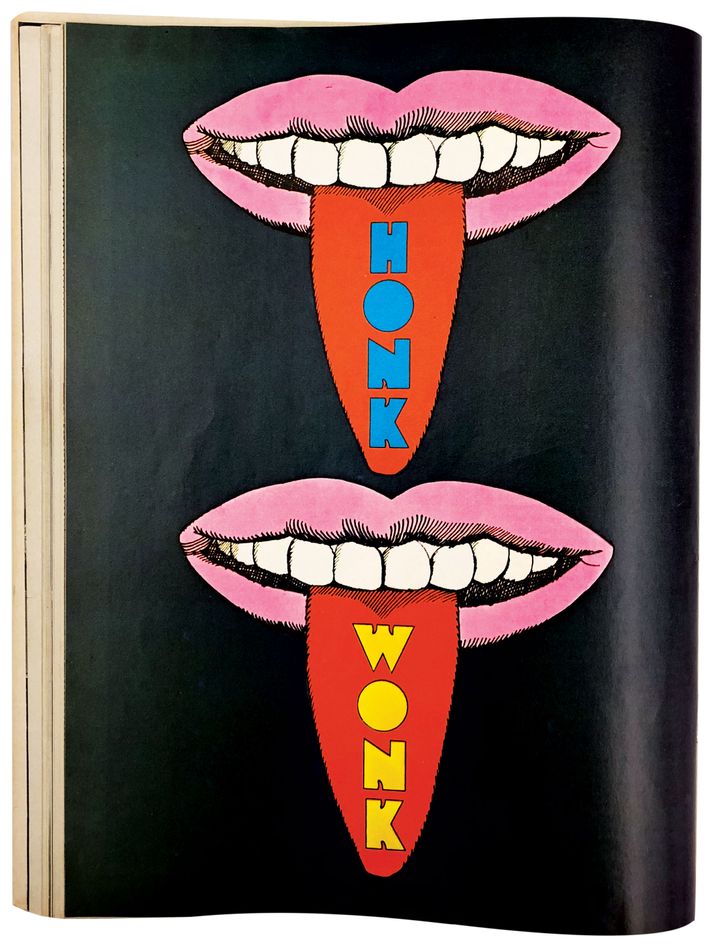 "Many New Yorkers have taken conscious pains to upgrade their accents socially and confidently believe that they now have the neutral accent of 'a radio announcer.' Three pronunciations almost invariably give them away: owies for always (lower class l dropping); fo'ud for forward (dropping the r and the w); frankfooter for frankfurter and footer moment for for the moment (lower class r dropping). "The fact is," [CCNY professor Marshall] Berger tells me, "that a person who tries to change one or two elements in his speech pattern may end up in worse shape than he thought he was to begin with … Frankly, I like to hear people like Vito Battista and Jimmy Breslin talk. They have working-class accents and they don't care who knows it." —Tom Wolfe, in "You and Your Big Mouth: How the Honks and Wonks Reveal the Phonetic Truth About Status"
Some of us revealed ourselves.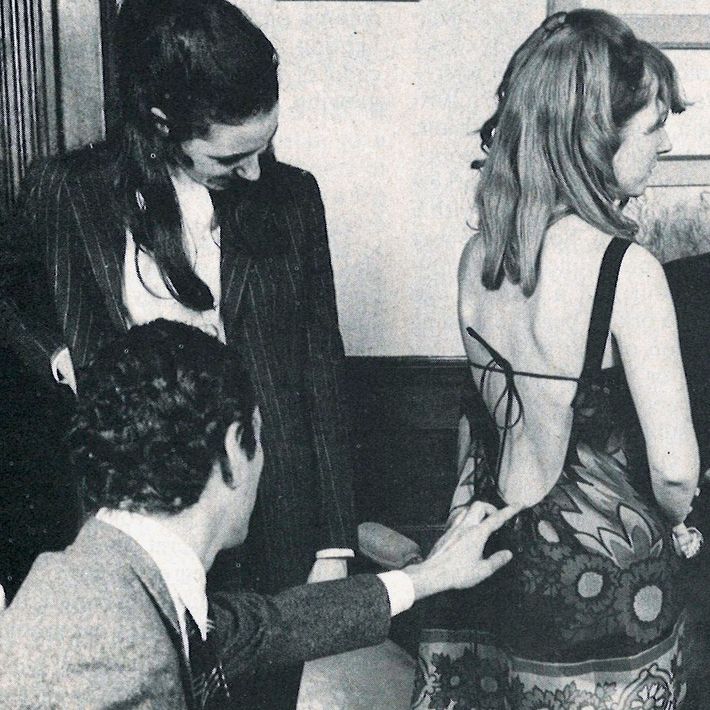 "Most designers admit that when they showed their first cutouts and bare looks, they thought of them as gags to make news headlines. They couldn't have been more surprised when women took them up as serious fashion." —Eugenia Sheppard on the see-through look
We recalled (or imagined) our then-adversary as a long-ago neighbor.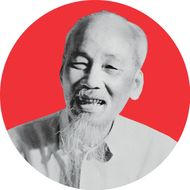 "Ho Chi Minh was a waiter in the Bronx.
I'm sure he worked in a Chinese laundry when he was young …
Sometime in the '20s, he had a photography shop in Harlem …
"These are only some classics from a large collection of rumors … Most of them center mysteriously on New York. And most of them center on Ho Chi Minh's life before 1945 …
"He is an old man now, perhaps no longer in total control of the Vietcong, or even of North Vietnam's rival forces. But every once in a while, he still peers quizzically at some visiting American, and says, 'Tell me. How is New York?' " —Gloria Steinem, "Ho Chi Minh in New York"
On April 1, 1968,
The Dow Jones Industrial Average was 861. Adjusted for inflation, that's about 6,250, a quarter of its current level.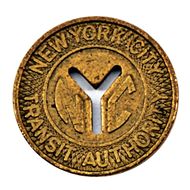 If you bought a share of Coca-Cola Company stock that April, it's worth nearly 3,000 times as much now.
If you bought an ounce of gold, it's worth 4.9 times as much.
The subway fare was 20 cents.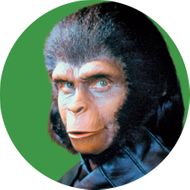 News That Was Not in Our April 8, 1968, Issue
Because it played out during the week the magazine was on newsstands.
-Lyndon Johnson announced that he was not going to run for reelection.
-An attempt to legalize abortion in New York failed in the State Assembly.
-Terence Cooke was installed as archbishop of New York.
-The Soviets put an unmanned probe, Luna 14, into orbit around the moon.
-Planet of the Apes was released.
-James Toback, future director and accused sexual harasser, announced his engagement to Consuelo Sarah "Mimi" Russell, granddaughter of the Duke of Marlborough (the marriage lasted a year).
-The New York Aquarium at Coney Island got its first killer whale.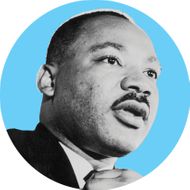 -New York State lottery tickets were sold for the first time in supermarkets and clothing stores.
-Martin Luther King Jr. was shot and killed in Memphis.
We saw the algorithms coming.
"We're Not That Bearish But Boy Our Computer Sure Is" —Headline on column by George "Adam Smith" Goodman
Advertisers from our first issue that are still extant:
Tiffany & Co. • Lord & Taylor • Air France • Bergdorf Goodman • Random House • Henri Bendel • Gordon's Gin • Bombay Gin • Johnnie Walker Black Label • Piaget • the Pierre hotel • Time, Psychology Today, and Philadelphia • Keen's Chop House • Raffetto Chut-Nut chutney • WINS radio • Lea & Perrins Worcestershire sauce • Ultima II makeup • Myra Breckinridge, by Gore Vidal • Cascade detergent
And some that didn't make it: B. Altman • Best & Co. • Pan Am • Braniff • Dry Dock Savings Bank • Manufacturers Hanover Trust • The old outdoorsy Abercrombie & Fitch • the original Holiday magazine • True magazine • Herman Had Two Daughters, a novel by Zelda Popkin
We lusted after the status accessory (a car phone, with shared line).

"The latest chic pastime: broadcasting and bugging on the biggest party line in the world. It's the telephone company's mobile communication service, where seldom is heard a clean private word. Are you bored in traffic jams? Then join the status-seeking hams who produce a show that blends industry, infidelity, obscenity, and domesticity … Home television may be a vast wasteland, but car telephoning is one great oasis of juicy dates." —Ralph Schoenstein, "Hello, I'm in the Car"
We were puzzled, by choice.
"It's a matter of mental exercise, not academic clerk-work, and all it takes is inexhaustible patience, limitless time, and a warped mind." —Stephen Sondheim on the superiority of British-style cryptic crosswords, in "How to Do a Real Crossword Puzzle, Or What's a Four-letter Word for 'East Indian Betel Nut' and Who Cares?" Sondheim himself constructed New York's crosswords for its first year in business.
*This article appears in the April 2, 2018, issue of New York Magazine. Subscribe Now!