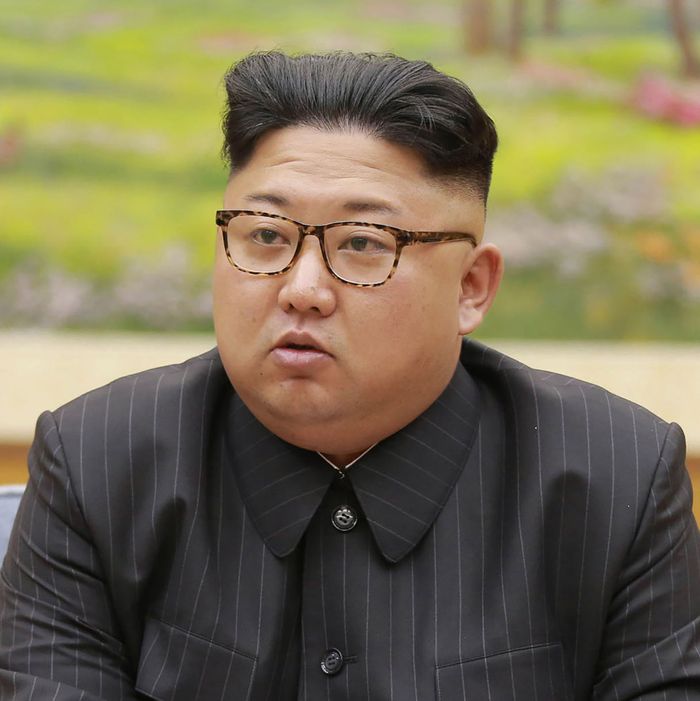 Suddenly in a peaceful mood.
Photo: STR/AFP/Getty Images
North Korea said on Friday that it would immediately and indefinitely suspend its nuclear and intercontinental ballistic missile programs and close a nuclear test site where previous tests have been conducted, according to state-run media.
The dramatic announcement comes weeks before a planned meeting between President Trump and North Korean dictator Kim Jong-un. It was revealed this week that CIA Director Mike Pompeo had personally met with Kim Jong-un over Easter weekend, in the highest-level engagement between the two countries since 2000, to pave the way for the summit.
Trump has insisted that North Korea denuclearize altogether. Though many observers have doubted its incentives to do so, Friday's announcement may be a step in that general direction.
But there's a big difference between suspending testing and actually getting rid of weapons. Many observers emphasized that the move amounts to little more than a cementing of promises North Korea had already made, and is easily reversible. Victor Cha, who came close to becoming the U.S. ambassador to South Korea before he was deemed too dovish, told Axios that "this is not a denuclearization statement, it is a statement that DPRK [North Korea] can be a responsible nuclear weapons state."
In any case, the policy shift and general outlook on the Korean Peninsula is a dramatic change in course from just a few months ago. In August, in the aftermath of a North Korean nuclear test, President Trump threatened to destroy the country with "fire and fury" if it further provoked the United States. Trump and Kim then engaged in a war of words for months. On Friday, Trump gloated about his diplomatic success: