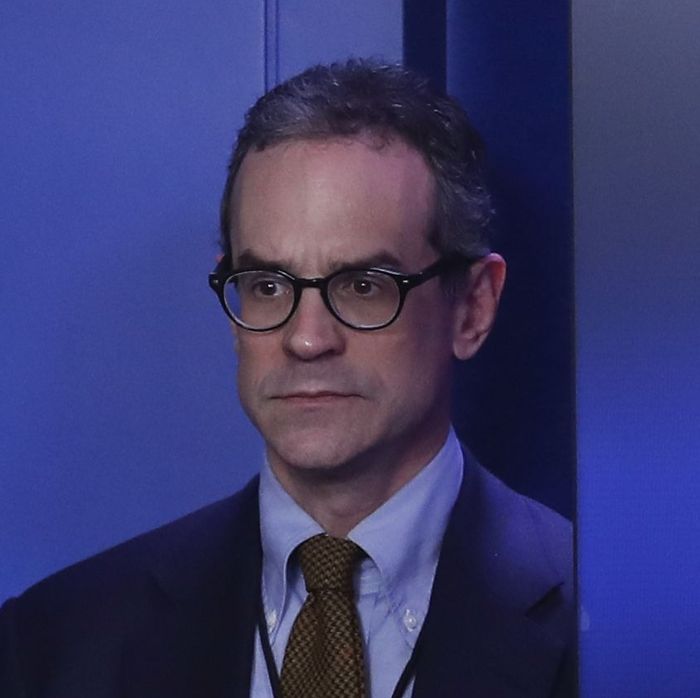 Michael Anton won't be putting America First with John Bolton.
Photo: AP/REX/Shutterstock/AP/REX/Shutterstock
During the 2016 election, Michael Anton penned a famous essay titled "The Flight 93 Election" that argued conservatives should learn to stop worrying and embrace Donald Trump's brand of authoritarianism, as their breed would not survive a Hillary Clinton presidency. The piece begins with an extended metaphor about the hijacked 9/11 plane, then shifts to "Russian Roulette with a semi-auto." Anton reasons: "With Trump, at least you can spin the cylinder and take your chances."
Now after working as Trump's National Security Council spokesperson for a little over a year, Anton is ready to … drop the gun? Leap out of the plane? Whichever metaphor you prefer, Anton announced on Sunday that he's leaving the White House, just a day before national security adviser John Bolton officially arrives.
Anton was brought into the Trump administration by his first national security adviser, Michael Flynn, but spent most of his tenure working under H.R. McMaster. No reason was given for Anton's departure, but there were no signs of acrimony. Anton said he plans join Hillsdale College's Kirby Center, where he'll serve as a writer and lecturer. "I will be forever grateful to President Trump for the opportunity to serve my country and implement his agenda," he said.
"Michael is one of the smartest and most talented individuals I've ever worked with — not to mention an amazing chef," said White House press secretary Sarah Sanders in a statement. "He has been more than a colleague, he is a true friend. Everyday I got to work with Michael was a good day and he will be greatly missed."
Sanders added that Trump has "nothing but good things to say" about Anton (though he's yet to receive a congratulatory tweet), and Politico reports that he "was the rare egghead who managed not to drive the president crazy."
So, why is he leaving? Bolton was the latest hire in a national-security shake-up that also involves a new secretary of State and CIA director. By departing now (or in the next few weeks — his exact exit date is unclear) Anton is missing the opportunity to reteam with a colleague from the George W. Bush administration. Both Bolton and Anton were part of the team that made the case for the 2003 invasion of Iraq. While Bolton famously stands by that decision (and has frequently called for striking Iran and North Korea), Anton has come to see it as a "mistake" and "a strategic and tactical blunder that destroyed a country (however badly governed), destabilized a region, and harmed American interests."
There's a lot of anxiety about what Bolton's tenure might bring, but at least we can cross off the national security adviser hurling office supplies at Trump's favorite egghead.