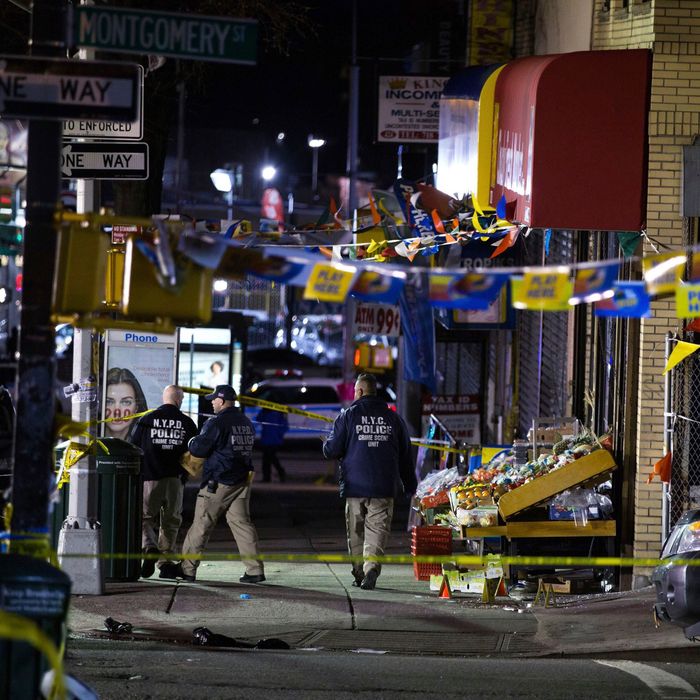 Investigators at the scene of a police shooting in Crown Heights.
Photo: Kevin Hagen/AP/REX/Shutterstock
Saheed Vassell, an unarmed bipolar black man, was shot and killed by NYPD officers on a Brooklyn street corner Wednesday afternoon, after a pipe he was holding was mistaken for a gun.
In a news conference, Police Chief Terence Monahan said five officers responded to several 911 calls about a man pointing a gun at pedestrians on Utica Avenue and Montgomery Street. When they arrived, a man matching the description "took a two-handed shooting stance and pointed an object at the approaching officers," Chief Monahan said. Police released surveillance stills of Vassell pointing the object at pedestrians.
Four of the officers fired ten shots at Vassell, Monahan said. He was transported to Kings County Medical Center, where he was pronounced dead.
Witnesses complained to local media that the police shot Vassell almost immediately after arriving on the scene. "They just hopped out of the car. It's almost like they did a hit. They didn't say please. They didn't say put your hands up, nothing," Jaccbot Hinds told the Daily News.
After Vassell was shot, police found that he was not holding a gun. Instead, he was pointing a pipe as if it were a gun. According to witnesses the Times spoke to, Vassell had a habit of picking up objects off the street and playing with them as if they were toys.
The Jamaican-born man, who moved to the U.S. when he was 6, was bipolar and known in his Crown Heights neighborhood to be mentally ill. "He hasn't taken his medication for years," his father Eric told the Daily News.
Police in the area were familiar with Vassell, who had been classified as emotionally disturbed by police who'd encountered him before. "Every cop in this neighborhood knows him," John Fuller told the Times. He added what the Times referred to as a "common refrain": Police should have known Vassell wasn't actually pointing a gun at them.
A rally is scheduled for Thursday evening at the corner of Utica Avenue and Montgomery Street. Organizers from NYC Shut It Down, an activist group that formed after the police killings of Eric Garner and Mike Brown, wrote on Facebook: "Saheed Vassell, an unarmed Black man was murdered by NYPD Wednesday night. Join us as we demand justice for Saheed Vassell. Black Lives Matter!"