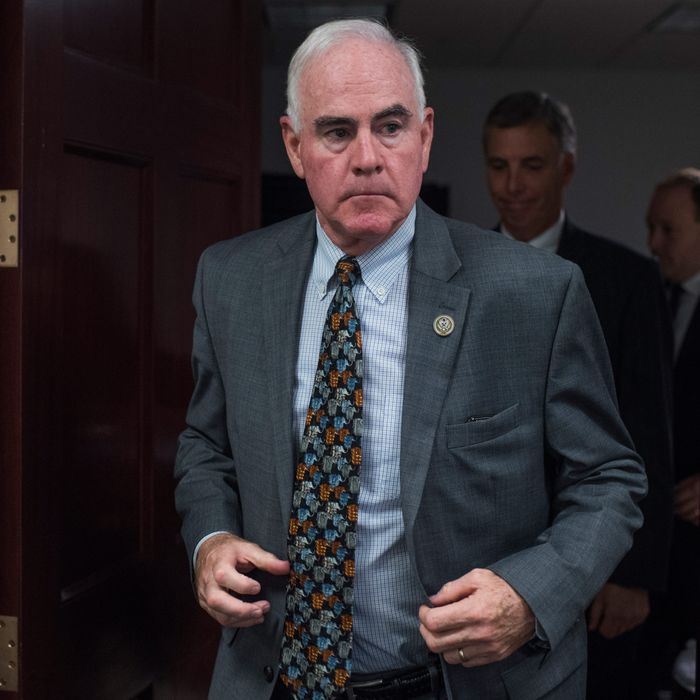 Another day, another Pennsylvania GOP congressman (Patrick Meehan) resigns for another sex-related scandal.
Photo: Tom Williams/CQ-Roll Call,Inc.
The Year of Agony for Pennsylvania Republicans continues. First, the state Supreme Court decision tossed out a heavily-GOP-gerrymandered congressional map in time for a new map to be used in November, aggravating what was already looking like a potential bloodbath for the party. Then you had the special election to replace 18th District Republican representative Tim Murphy, who resigned last October after he was accused of trying to talk a woman he was having an affair with into having an abortion. Despite a heavily pro-GOP, pro-Trump electorate, the relentless involvement of the president, the vice-president, and other leading Republicans, and enough money to choke a donkey, Republicans lost to Democrat Conor Lamb and his union backers in Pennsylvania's 18th.
Aside from Murphy, four House Republicans (Bill Shuster, Ryan Costello, Charlie Dent, and Patrick Meehan) have announced this year they would retire before facing voters again. Then Dent announced he would resign at some point in May. And now Meehan, who has been under the cloud of a sexual-harassment scandal, has just resigned as well, after announcing he would pay back $39,000 his office disbursed to a Meehan staffer as part of a settlement he reached with her to head off accusations of improper advances.
Meehan's Seventh Congressional District — the most blatantly gerrymandered of all the Pennsylvania districts — had been atomized in the new map drawn by the state Supreme Court. But his resignation now means Republicans will have to defend it one more time in a special election that is quite likely to produce some more bad vibes and bad headlines for the GOP. The Seventh as currently constituted was carried by Hillary Clinton in 2016 and was only narrowly won by Mitt Romney in 2012.
Under state law, Democratic governor Tom Wolf has just ten days to call a special election now that Meehan's gone, and it can only occur at least 60 days later. Wolf will also be calling a special election when Dent finally resigns. Unless he unexpectedly decides to leave one or both vacant until the new maps take effect, Republicans could be battling on two difficult fronts at some point this summer (Dent's district is slightly more Republican-leaning than Meehan's, but in this year's climate, that probably won't be enough).
At this point the road ahead looks generally bad for the Keystone State's Republicans. Recent polls have shown the two Democrats who will be at the top of the ballot, Wolf and U.S. senator Bob Casey, with substantial leads over their GOP opponents. And Democrats think they can pick up as many as six U.S. House seats in November under the new maps. You have to wonder if the GOP will be tempted to just take a dive in the special elections and save their money and equanimity for the fall. It surely won't happen, but that doesn't mean it might not cross the minds of some hard-pressed pols and donors in the Commonwealth.