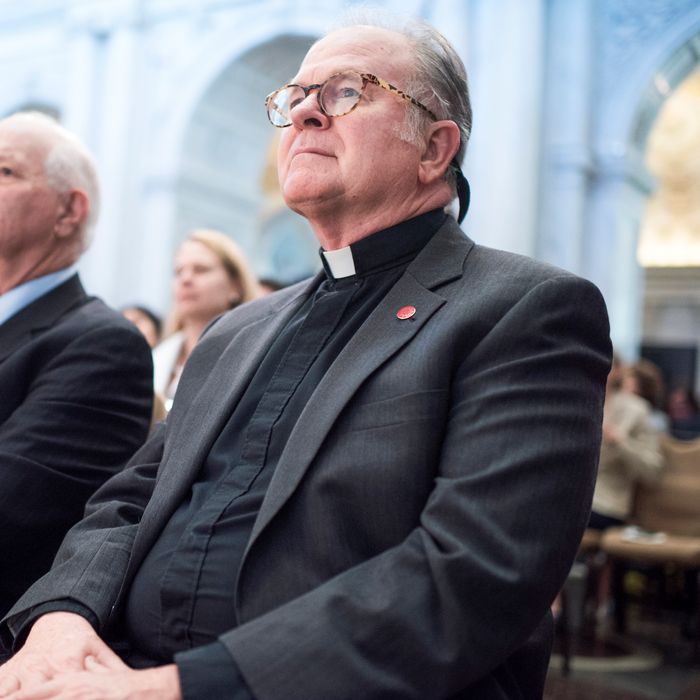 Applicants must love God, conservatism, and Ayn Rand, not necessarily in that order.
Photo: Tom Williams/CQ-Roll Call,Inc.
Under the Trump administration, we've learned that Paul Ryan is willing to shrug off racist remarks from the president, and has no problem enabling attacks on the rule of law. But one thing that will not be tolerated in Ryan's House is a man of God suggesting that tax cuts should be fair to all Americans.
When Ryan announced earlier this month that House Chaplain Patrick Conroy would soon step down, he gave no explanation for his exit, and many assumed he was leaving voluntarily. But anger erupted on the Hill in recent days when the Jesuit priest told lawmakers that Ryan was pushing him out, and he didn't know exactly why.
"As you have requested, I hereby offer my resignation as the 60th chaplain of the United States House of Representatives," Conroy wrote in a letter dated April 16. "I have seen it as a blessing and I have considered it one of the great privileges of my life," he added.
On Thursday Democratic sources pointed to a potential explanation: a prayer Conroy offered on November 6, 2017, when the House was on the verge of passing the GOP tax bill. Aside from offering counsel to lawmakers, Conroy's job is to give the opening prayer each day when the House is in session.
"May all members be mindful that the institutions and structures of our great nation guarantee the opportunities that have allowed some to achieve great success, while others continue to struggle," Conroy prayed. "May their efforts these days guarantee that there are not winners and losers under new tax laws, but benefits balanced and shared by all Americans."
Conroy confirmed to the New York Times on Thursday that his exit was sparked by a request from Ryan's chief of staff, who said, "The speaker would like your resignation."
No further explanation was offered. Conroy said he doesn't know if politics played a role, but noted that after the tax-cut prayer he was criticized by the Speaker's office for the first time during his seven-year tenure. Per the Times:
About a week later, Father Conroy said, he heard from the speaker's office. "A staffer came down and said, We are upset with this prayer; you are getting too political," he said. "It suggests to me that there are members who have talked to him about being upset with that prayer."




Shortly after, when he saw Mr. Ryan himself, Father Conroy said that the speaker told him, "Padre, you just got to stay out of politics."




"That is what I have tried to do for seven years," Father Conroy said. "It doesn't sound political to me."




"If you are hospital chaplain, you are going to pray about health," he added. "If you are a chaplain of Congress, you are going to pray about what Congress is doing."
A congressional aide for Mr. Ryan said he wasn't ousted over any specific prayer. He didn't elaborate, but one Democratic source offered another, even less flattering explanation. "Some of the more conservative evangelical Republicans didn't like that the Father had invited a Muslim person to give the opening prayer," the source told The Hill.
Members of both parties are upset about the decision. Representatives Walter Jones, a Republican, and Gerald Connolly, a Democrat, are asking for their colleagues' signatures on a letter demanding more information from Ryan. Jones told the Times that members vote for the chaplain, and "this is not a one-man decision."
"If this is true about the prayer, and we have freedom of religion in America, how about freedom of religion on the floor of the House?" he added.
Regardless, it appears Conroy's last day will be May 24. "I do not want to debate this," he said. "My understanding going into this is that I serve at the prerogative of the speaker."
Ryan has convened a bipartisan committee to search for Conroy's replacement, but they may have trouble finding a priest who considers Ayn Rand their personal savior.