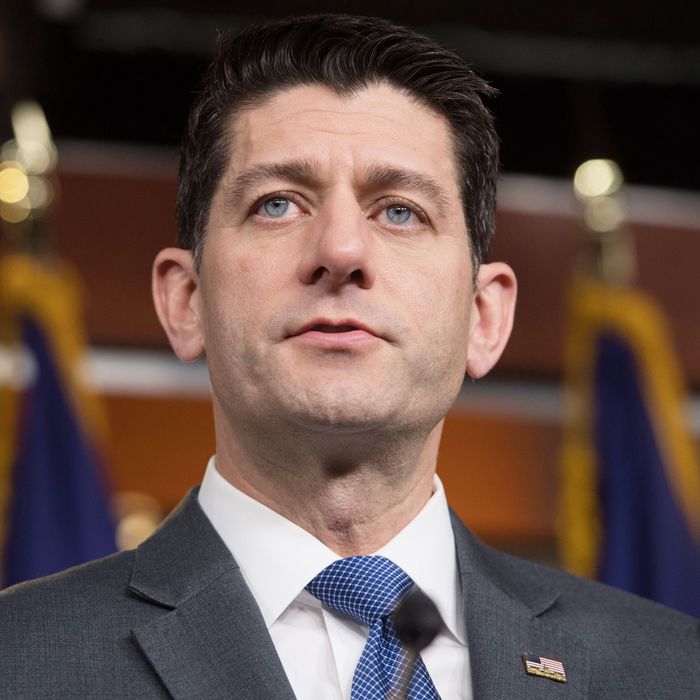 Bye, Paul.
Photo: Saul Loeb/AFP/Getty Images
Paul Ryan is ready to cash out — and Democrats just might cash in.
After fulfilling his lifelong dream of exacerbating economic inequality, the House Speaker is ready to depart for the private sector, as his current job has "become endlessly frustrating, in part because of President Trump," Axios's Jonathan Swan reports. That scoop was subsequently confirmed by the Washington Post.
Ryan's dogmatic brand of conservatism might lead one to assume that he represents a deep red area. But Wisconsin's First District leans Republican by only about 5 percent, according to the Cook Political Report; as of this writing Democrats lead the 2018 generic ballot by more than 8 percent.
Ironworker (and social-media darling) Randy Bryce has been campaigning as a Democratic challenger to Ryan since last summer. In December, a poll from the Democratic firm Global Strategy Group showed Ryan leading Bryce by only 6 percent — even as 79 percent of likely voters reported that they didn't know enough about Bryce to say whether they viewed him favorably or unfavorably. Which is to say: A significant portion of Ryan's constituents were willing to pick the devil they don't know over the one they've gotten to know all too well.
Bryce has yet to secure the Democratic nomination for the House seat in Wisconsin's First. And it's far from clear who his Republican opponent would be, if he did. At present, the leading challenger to Ryan from the right is Paul Nehlen, a white supremacist who has called on border patrol to gun down Mexicans as they approach the border, be they "man, woman, or child."