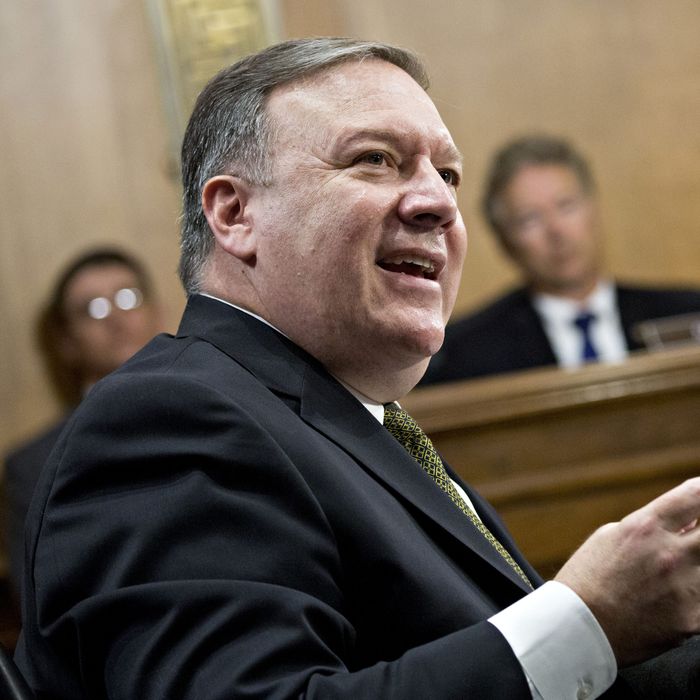 Newly confirmed Secretary of State Mike Pompeo will now have a difficult job managing problems from Foggy Bottom to North Korea.
Photo: Andrew Harrer/Bloomberg via Getty Images
CIA Director Mike Pompeo was confirmed by the Senate today as Rex Tillerson's successor as aecretary of State by a 57–42 vote. Seven Democrats joined all 50 Republicans in voting to let the hawkish Kansan join Trump's Cabinet. Indeed, the timetable for confirmation was moved up a day so that Pompeo could be sworn in immediately and then attend a Friday meeting of NATO foreign ministers in Brussels.
Any real chance to defeat this nomination faded when Rand Paul abruptly announced a reversal of his prior objection to Pompeo (mostly because the nominee was reluctant to admit the Iraq War was a mistake), clearing his approval by the Senate Foreign Relations Committee. And then, bending to the inevitable, red-state Democrats up for reelection this fall began announcing their support for confirmation.
In the end 2018 candidates Heidi Heitkamp of North Dakota, Joe Manchin of West Virginia, Joe Donnelly of Indiana, Claire McCaskill of Missouri, Bill Nelson of Florida, and Angus King of Maine (technically an independent caucusing with Democrats) voted for Pompeo, as did Doug Jones of Alabama, who isn't up until 2020 but is from the reddest state of them all. And Republicans stayed in the party harness after Paul was talked out of blocking the nomination (by Trump himself, among others).
You can make the case that in a foreign policy apparatus led by Trump and at least partially steered by John Bolton, Pompeo looks a whole lot less dangerous than he might have appeared in a normal Republican administration. Indeed, his close relationship with the boss leads some to think he can operate as a moderating influence. It's an open question as to whether he can do a better job than Tillerson in getting along with his own employees and filling urgently needed foreign-policy posts. More immediately, of course, he will be credited or blamed for whatever happens in Trump's upcoming summit meeting with Kim Jong-un. Even his and Trump's bitterest domestic enemies hope that event does not become a fiasco.