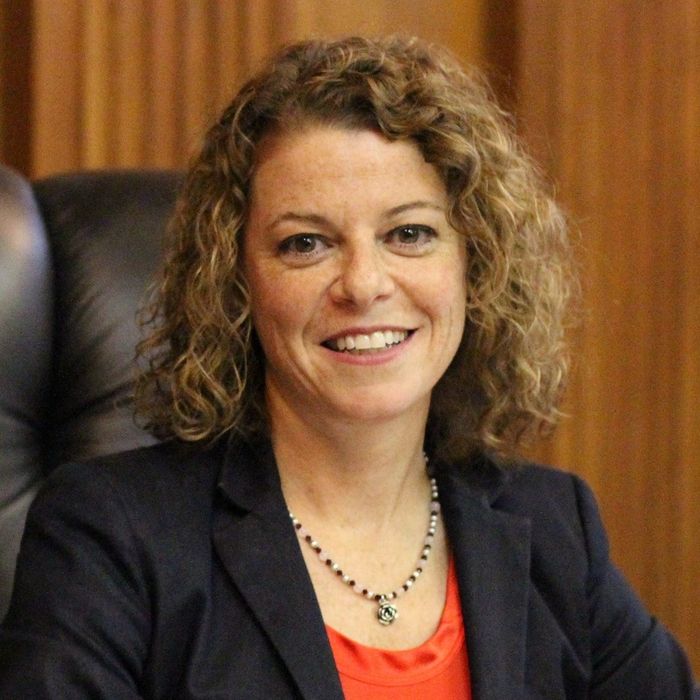 New Wisconsin Supreme Court Justice Rebecca Dallet, a progressive who won by an unexpected landslide today.
Photo: Facebook/JudgeDallet
What was generally expected to be another close Wisconsin barn-burner of an election turned into a romp, as progressive circuit county judge Rebecca Dallet easily defeated conservative circuit court judge Michael Screnock for a spot on the state's Supreme Court. At the time of this writing, Dallet was winning by a landslide 56/44 margin, with nearly half the votes counted. As the Milwaukee Journal-Sentinel noted: "It was the first time in 23 years that a liberal candidate who wasn't an incumbent won a seat on the high court."
Dallot's win, which gives her a ten-year term, reduces the conservative majority on the Supreme Court to a spare 4-3 margin. (It also means six of the seven justices are women). Politically, it will be widely interpreted as a possible omen for November, when Republican Governor Scott Walker, Democratic U.S. Senator Tammy Baldwin, all members of the GOP-controlled State Assembly, and half the GOP-controlled State Senate will face voters. That's exciting news for Democrats, who have failed to beat Walker in three previous attempts, and who were shocked when Donald Trump and unpopular Republican Senator Ron Johnson won in 2016.
Dallet piled up big margins in Dane County (which includes Madison) and Milwaukee County, precisely where Democrats will need to do well in November. And her election continues the remarkable pattern, of Democratic over-performance in special elections, that's been underway since Donald Trump's inauguration.
Tonight's results also make it abundantly clear why Scott Walker tried so hard to avoid calling two state legislative special elections, only doing so when forced to comply with state law by a judge he had himself appointed. This is not a good time for any candidate with an "R" next to his or her name — or in the case of non-partisan judicial elections like Wisconsin's, with an "R" by association — to face voters in any sort of competitive contest. Odds of a Democratic wave in November continue to rise.