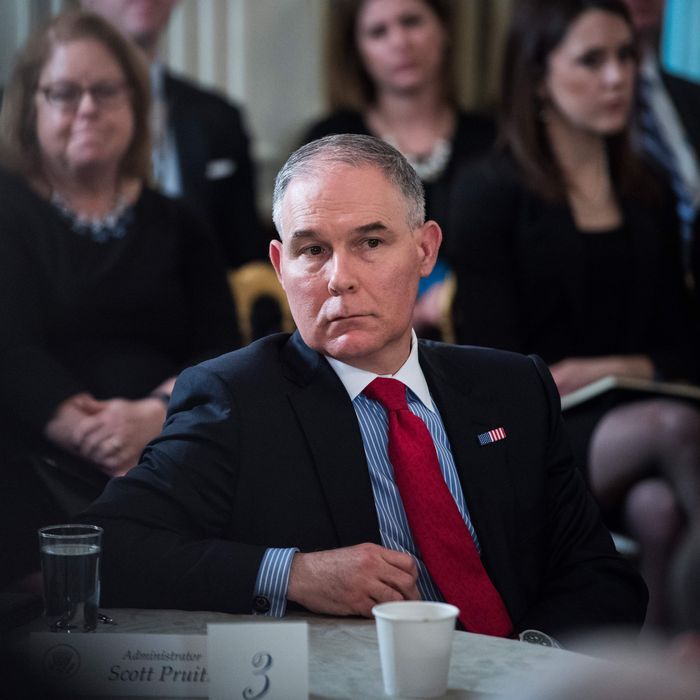 He's got a lot on his plate right now.
Photo: Jabin Botsford/The Washington Post/Getty Images
Scott Pruitt's job has become almost as unsustainable as he's trying to make the environment.
Two Republican representatives on Tuesday called for Pruitt to step down amid a flurry of unflattering stories about the EPA administrator.
Carlos Curbelo and Ileana Ros-Lehtinen, both Florida representatives who have broken with Pruitt's environmental policies in the past, were unsparing in their criticism. Curbelo tweeted his disapproval:
In a statement provided to HuffPost, Ros-Lehtinen, who is retiring at the end of her term, echoed Curbelo, saying that "when scandals and distractions overtake a public servant's ability to function effectively, another person should fill that role."
In the last several days, rumors have swirled about Pruitt's possible dismissal. On Tuesday night, President Trump reportedly called Pruitt and reassured him that he had Pruitt's back.
But on Wednesday, the president used the kind of wishy-washy language that has been reserved, in the past, for those who were not long for his Cabinet. "I hope he's going to be great," he said.
Pruitt is dealing with fallout from several revelations of the ethical shadiness that appears to be his modus operandi. Last week, ABC News reported that during his first six months in Washington, Pruitt had rented a room for the low, low price of $50 a night in a Capitol Hill condo co-owned by an energy lobbyist's wife. The Daily Beast reported that multiple GOP fundraisers were held at the house while Pruitt lived there, though he didn't attend. And the New York Times reported that while Pruitt was staying at the condo, the lobbyists linked to the house saw their projects approved at the EPA.
The White House is conducting a review of the matter, the Wall Street Journal reported on Monday.
Then there's Pruitt's travel. The Washington Post reported that Pruitt last year considered renting a private jet for the high, high price of $100,000 a month. This comes on the heels of his already newsworthy penchant for flying first class to avoid liberal abuse, plus his installation of a $43,000 soundproof booth in his office.
Amid this frenzy, Pruitt was unveiling one of the cornerstones of his revanchist environmental policy on Tuesday. He held a news conference announcing the EPA's rollbacks of greenhouse emission targets for cars, where in typical Pruitt fashion, he attempted (unsuccessfully) to restrict every news outlet except Fox News.
For all his corruption and scandal, Pruitt has been enormously effective at knocking back Obama-era policies that anti-environmentalists call job-killers and maintaining the anti-media, anti-elite attitude that binds him to the president. He enjoys support from many corners of the Republican Establishment, the new Florida lawmakers notwithstanding.
Trump may have to choose between a fusillade of damaging headlines about Pruitt's indiscretions or the scary possibility that Pruitt's replacement won't be quite so aggressive in making America's air less breathable. It'll be a tough call for the president.