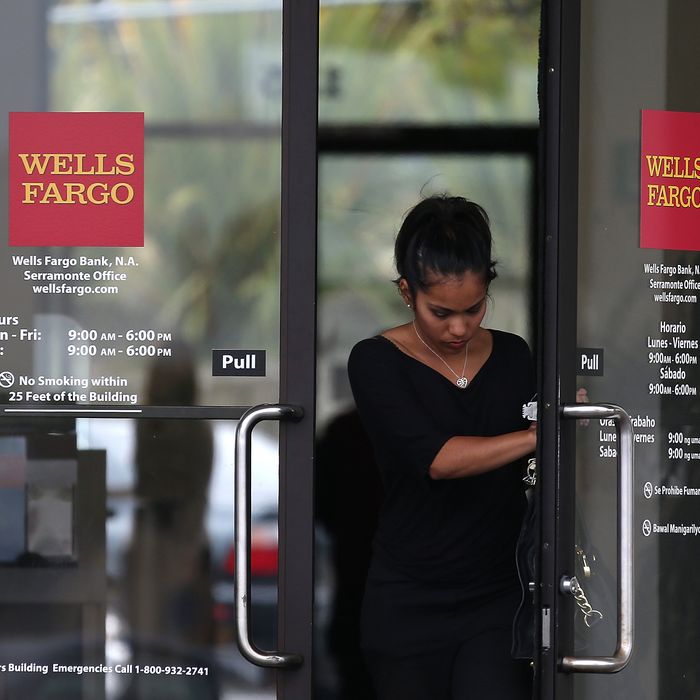 Wells fargone.
Photo: Justin Sullivan/Getty Images
As a congressman, Mick Mulvaney called the Consumer Financial Protection Bureau (CFPB) a "sick, sad joke." Since he became the acting director of the watchdog agency last fall, Mulvaney has worked tirelessly to prove himself right.
Under the far-right Republican's watch, the CFPB has dropped a lawsuit against a group of online payday lenders who'd (allegedly) tricked low-income consumers into taking on loans with interest rates as high as 950 percent a year; signaled that it will abolish a rule that requires payday lenders to verify a borrower's ability to repay loans within 45 days; called off an investigation into an installment lender whose business model depends on giving bad financial advice to heavily indebted poor people; and stripped the federal office in charge of policing racial discrimination in lending of its enforcement powers.
So it was more than a little (pleasantly) surprising Friday, when the bureau handed out the largest fine in its history – to a major Wall Street bank that has donated large sums of money to Republican political campaigns.
Earlier today, the CFPB and  Office of the Comptroller of the Currency imposed a $1 billion fine on Wells Fargo for a variety of abuses perpetrated against consumers of its auto loan and mortgage products. What's more, the OCC forced America's third-largest bank to submit to an unprecedented order that gives regulators authority to take a wide range of actions to prevent further abusive practices, "including imposing business restrictions and making changes to executive officers or members of the bank's board of directors."
Wells Fargo will also be required to update regulators on how it intends to identify customers who were hurt by its predatory tactics, and how it intends to compensate them for their losses.
To be sure, the enforcement action still leaves something to be desired (specifically, the sight of culpable Wells Fargo executives in handcuffs). But it would qualify as a robust penalty under any recent administration, let alone under Donald Trump's.
All of which begs the question: Why did a White House this fanatically committed to serving Wall Street's interests allow this to happen?
One answer is, "passively." After all, it's not like this was Mick Mulvaney's baby. The CFPB began its investigation into Wells Fargo on Richard Cordray's watch — a point that the Democratic gubernatorial candidate was eager to emphasize Friday, saying in a statement, "To suggest this is the work of Mulvaney, who has done nothing but throw sticks in the spokes of a talented, hard-working CFPB team of devoted public servants is preposterous."
A supplementary explanation is that Wells Fargo's misconduct was so prolific — and high-profile — Mulvaney didn't feel comfortable sabotaging the bureau's enforcement action against the bank. Among Wells Fargo's offenses: deceptively getting 570,000 clients to sign up for expensive car insurance that they didn't need, which led as many as 20,000 to default on their auto loans. Separately, the bank also charged 110,000 of its mortgage borrowers for failing to meet a deadline for locking in their interest rates, even though the bank itself was responsible for the relevant delays.
And these offenses came on top of the bank's now-infamous former habit of charging millions of Americans for accounts they never opened — which itself, came on top of the bank's infamous habit of forcing African-American borrowers (whom Wells Fargo officers referred to as "mud people") into subprime loans in the run-up to the 2008 financial crisis.
By the time the CFPB and OCC announced their fines this week, Wells Fargo's white-collar criminality had already earned it an unprecedented punishment from the Federal Reserve, which announced in February that it would not allow the bank to take on any more assets than it held last year, until it has proven itself a responsible lender.
All this said, there's another, more concerning theory for the Trump administration's aberrantly robust enforcement action against Wells Fargo: News stories about the bank caught Trump's attention, he tweeted about it, and so Mulvaney allowed regulators to go after a company that had caught the boss's ire. As ProPublica's Jesse Eisinger, whose reporting helped expose Wells Fargo's misdeeds, notes:
Still, there's a pretty big distinction between the two cases Eisinger cites: Trump's personal opposition to the Time Warner deal was motivated by his antipathy for how CNN covered his administration. His desire to punish Wells Fargo, by contrast, appears rooted in the perception that beating up on the bank would benefit him politically — which is about as pure a motive as you're going to get from this particular elected representative.
Regardless, the fact remains: The Executive branch, under Donald Trump's leadership, actually did something to meaningfully punish a powerful institution for abusing ordinary Americans. Happy Friday.