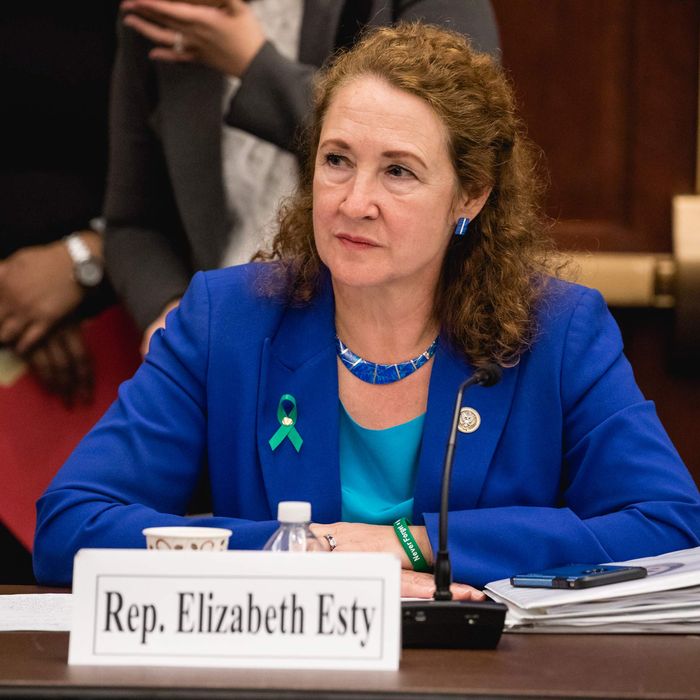 Connecticut Democrat pushed into premature retirement after covering up abuse allegations against a former chief of staff.
Photo: Cheriss May/NurPhoto via Getty Images
Representative Elizabeth Esty of Connecticut was forced into retirement today, and is another self-destructive casualty in this year's "reckoning" with sexual assault, harassment, and abuse. Her case involved a cover-up of some pretty terrible behavior by her chief of staff, Tony Baker, who made a death threat on the voice mail of a former staffer, Anna Kain, whom he once dated. As explained by the Washington Post, Esty did not do the right thing:
Rather than firing or suspending Baker, the congresswoman consulted her personal attorneys and advisers, she said. She also spoke to Kain on May 11, emails show; Kain said she provided detailed allegations that Baker had punched, berated and sexually harassed her in Esty's Capitol Hill office throughout 2014, while she worked as Esty's senior adviser….




Baker did not leave for three months. By his last day on Aug. 12, according to documents Esty provided to The Post, he and Esty had co-written a positive recommendation letter he could use in a job search and signed a legal document preventing her from disparaging him or discussing why he left. Baker went on to work for Sandy Hook Promise, the gun-control group created after the 2012 shooting in Esty's district. He was dismissed from the group this week after The Post contacted him.
Though Esty admitted error and tried to contain the damage via a request for an Ethics Committee investigation, the immediate political heat back home was too much to overcome. Her retirement may or may not preempt demands that she resign. But for Republicans, the sudden drama could create a rare, if still long-shot, opportunity to offset this year's likely House losses with an even rarer blue-state pickup.
The Cook Political Report's David Wasserman had this to say about Esty's district, Connecticut's Fifth District, last fall:
If there's any district in the state that's still competitive, it's probably this one, which voted for Hillary Clinton by just four points in 2016. But Etsy took 58 percent, and Republicans will have a tough time defeating her in the current environment.
Now it's an open seat; last time that happened, in Esty's first race, she won by less than four points. And while Connecticut is a blue state and and the national environment is strongly pro-Democratic, it should be noted that an unpopular Democratic governor (Dan Malloy, who is wisely retiring this year) and legislature has made the Nutmeg State more competitive than you'd guess at the state level.
Rumors are already swirling about possible candidates in each party to succeed Esty; the deadline for qualifying isn't until June, and the primary's not until August. So it's very premature to assess the GOP's chances there.
But one thing's for sure: Esty's rapid political demise should make it clear that trying to sweep evidence of abuse under the rug is, along with being unethical, not a very smart survival strategy in Congress at present.