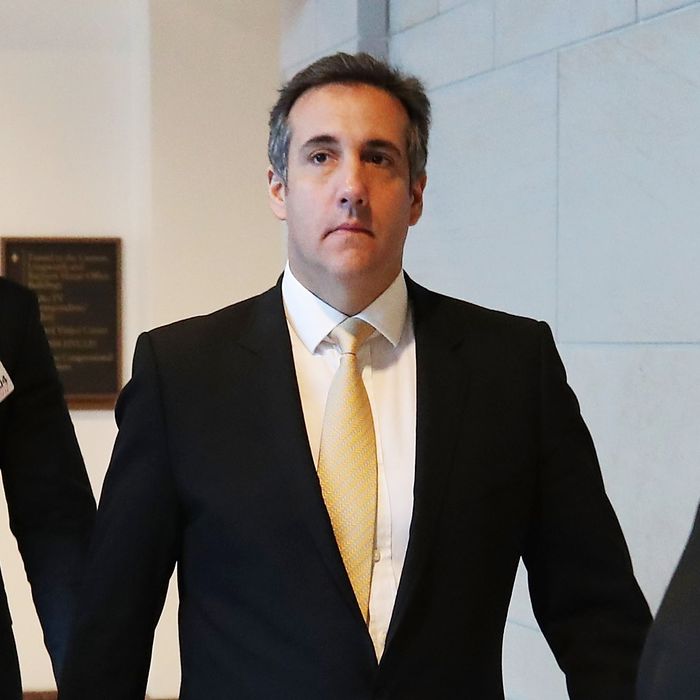 Not his best week.
Photo: Mark Wilson/Getty Images
The Wall Street Journal reported on Friday that Michael Cohen, President Trump's personal lawyer and "fixer" whose home and office were raided by law enforcement this week, facilitated a $1.6 million payment to a former Playboy model who said she was impregnated by venture capitalist and Republican fundraiser Elliott Broidy.
The agreement set up by Cohen bars the unidentified woman from discussing her relationship with Broidy. It also prevents her from pursuing "what she said were potential legal claims against Mr. Broidy, according to the person familiar with the matter."
"I acknowledge I had a consensual relationship with a Playboy Playmate," Broidy said in a statement provided to the Journal. "At the end of our relationship, this woman shared with me that she was pregnant. She alone decided that she did not want to continue with the pregnancy and I offered to help her financially during this difficult period."
Broidy, who is closely connected to President Trump, served as a deputy finance chairman of the Republican National Committee alongside Cohen. Hours after the Journal report was published, Broidy resigned from his position. (In January, casino magnate Steve Wynn stepped down as the finance chairman in the wake of multiple sexual-misconduct allegations.)
Broidy was a vice-chairman for the Trump campaign's joint fund with the Republican Party during the 2016 presidential campaign, as well as the vice-chairman of the Trump Victory Fund. He has met with Trump frequently at Mar-a-Lago and at the White House.
Federal prosecutors were already looking into two other payments Cohen made to women on behalf of President Trump: one to the adult-film actress known as Stormy Daniels, and one to former Playboy model Karen McDougal. The raid of Cohen's home and office last week means that law-enforcement officials likely have access to sensitive records involving Cohen and possibly the president, which may include recorded conversations.
The Journal reports that Cohen used some familiar tactics as he set up the Broidy payment:
The Broidy agreement uses the same pseudonyms for Mr. Broidy and the woman with whom he was allegedly involved—David Dennison and Peggy Peterson—as the earlier agreement used for Mr. Trump and Ms. Clifford, respectively, the person familiar with the matter said. Both agreements had separate side letters that listed the real names of the parties, this person said.