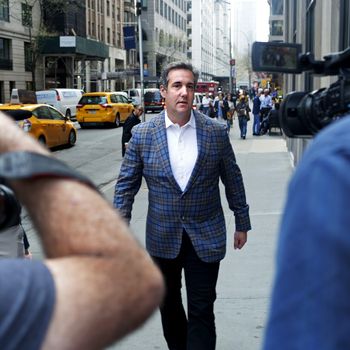 Not a great jacket, either.
Photo: Yana Paskova/Getty Images
It was a balmy Friday in New York City, but Michael Cohen probably wasn't in a very bright mood.
It has been an extremely terrible day for President Trump's personal lawyer/fixer/capo. First, prosecutors revealed in court documents that the raiding of Cohen's home and office on Tuesday was spurred by a criminal investigation over his business dealings that has been going on for months, completely separate from Special Counsel Robert Mueller's probe. (Cohen's lawyers went to court on Friday, asking a federal judge for the right to review seized material before investigators can; the hearing was postponed until Monday.)
Then, The Wall Street Journal reported, seemingly out of the blue, that Cohen had facilitated a payment to a former Playboy model who had become pregnant after an affair with prominent Republican fundraiser Elliott Broidy — an arrangement that echoed similar arrangements between President Trump and Stormy Daniels, as well as Karen McDougal.
But Friday wasn't done with Cohen yet. Hours later, in what may have been the worst news of the day for him, ABC News reported that the FBI had seized audio recordings from his office during their raid. What's on those tapes is anyone's guess, but it probably isn't Cohen reciting from an ethics-law textbook.
Amid all this, the New York Times reported that President Trump gave Cohen a casual phone call to check in. The Times noted that "depending on what was said, the call could be problematic for both men, as defense lawyers often advise their clients not to talk to each other during investigations." But then, neither has ever been much for following protocol.
Earlier on Friday, President Trump had pardoned George W. Bush official Scooter Libby, in what seemed to be a clear signal to his many legally imperiled associates that they need not fear the long arm of the law if they choose to do Trump a solid and not rat on him.
One problem for Cohen — who is known to be very loyal to the president — is that the rap against him may include state charges, meaning that a presidential pardon wouldn't necessarily help his case.
The Cohen episode has clearly rattled the president, even beyond his usual fragile mental state. The Times reports that his advisers "have concluded that a wide-ranging corruption investigation in New York poses a greater and more imminent threat to the president than even the special counsel's investigation, according to several people close to Mr. Trump."
They may well be right.
UPDATE: Cohen's Friday somehow took a turn for the even worse in the early evening. McClatchy reported that Mueller had obtained evidence of Cohen traveling to Prague in 2016 — a trip he had vigorously, if unconvincingly, denied making. As McClatchy put it: "Confirmation of the trip would lend credence to a retired British spy's report that Cohen strategized there with a powerful Kremlin figure about Russian meddling in the U.S. election."
On Saturday, Cohen once again denied ever having been to Prague.