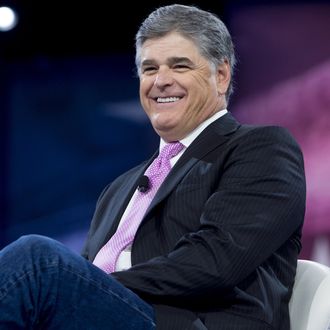 Sean Hannity.
Photo: SAUL LOEB/AFP/Getty Images
The Washington Post has a detailed report on the relationship between President Trump and Fox News pundit and walking journalism-ethics catastrophe Sean Hannity, who treats his subject with all the deference of the official North Korean news agency. The bad news is that Trump speaks with Hannity constantly, like several times a week. The worse news is that, "There is a small group of people who Trump speaks with who truly don't have to be obsequious," a "veteran Trump ally" tells the Post. "Sean is one of them."
Yes. Of all the people Trump consults, Hannity is one of the least sycophantic. When Trump tires of being buttered up by others, he turns to Sean Hannity for a bracing dose of straight talk. One can only shudder at the thought of what other Trump advisers sound like.