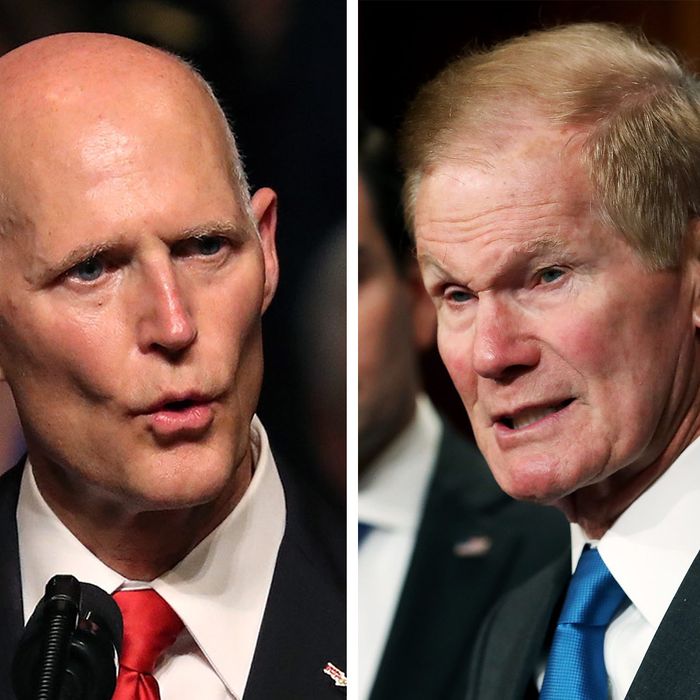 The Scott/Nelson contest won't be pretty.
Photo: Joe Raedle; Mark Wilson/Getty Images
In the least surprising political development of 2018 so far, two-term Florida governor Rick Scott confirmed today that he's running against Democratic U.S. Senator Bill Nelson in what is likely to be one of the midterm election's closest and most expensive contests.
Scott, who has won two gubernatorial elections very narrowly in two strongly pro-Republican years, is term-limited. Nelson is running for his fourth Senate term; he also served in the U.S. House for 12 years before running unsuccessfully for governor in 1990, and famously served on a mission of the Space Shuttle Columbia in 1986.
The initial betting on this race is more or less a pick-'em. Nelson's advantages include a moderate reputation; a longtime focus on issues of particular concern to Floridians; and what is expected to be a pro-Democratic breeze in a state that Trump narrowly carried in 2016; his average job approval ratio in Florida during 2017, according to Gallup, was 41/53. Scott is benefiting from a strong economic recovery, some shrewd repositioning on issues like Dreamers (he supported in-state tuition for those who graduate from Florida high schools), gun regulation (he recently signed a bill restricting long-gun sales in the wake of the Parkland massacre) and offshore drilling, and gradually rising approval ratings (Morning Consult showed him with a 58/31 ratio in the fourth quarter of 2017, quite comparable to Nelson's 51/26 ratio).
Most of all, Rick Scott has shown a willingness in the past to spend big chunks of the private fortune he amassed before running for office, some of it from a golden parachute he received from health-care giant Columbia/HCA, the company heavily fined for Medicare fraud after Scott's departure (an issue that continues to haunt his career). He spent about $78 million of his own money in 2010, and has an estimated $150 million left at present. Nelson has been raising money at a pretty good pace (he had a reported $8 million in cash 0n hand late last year), and will get plenty of outside help from national Democrats.
This will be a slugfest, with one of the most important variables being the relative popularity (or unpopularity) of the man whose frequent presence at Mar-a-Lago makes him an unavoidable topic in Florida politics. And if Democrats get close to the kind of national gains that make a Senate takeover possible, this contest may well determine whether they can get over the top.