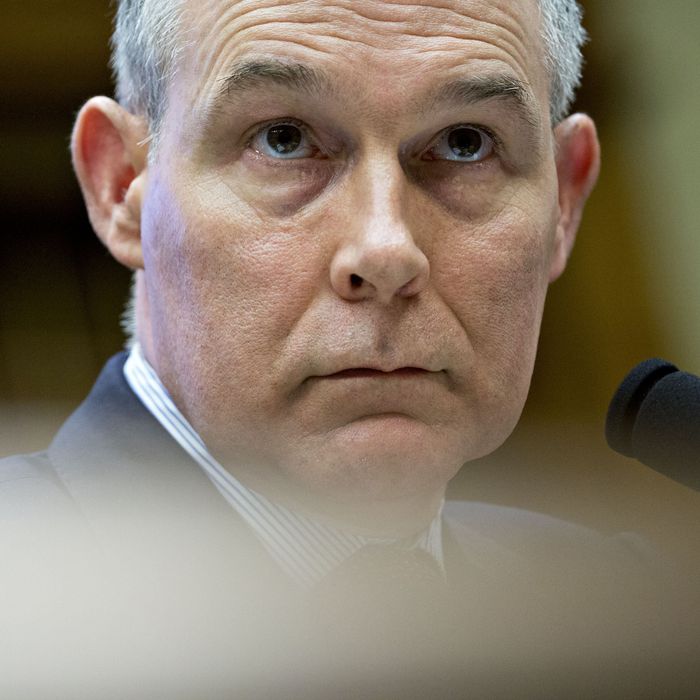 It's hard to help pollute with all these distractions.
Photo: Andrew Harrer/Bloomberg via Getty Images
Scott Pruitt may have dodged disaster during his marathon appearance in front of lawmakers on Thursday. But that doesn't mean he's out of the ethical woods yet. Bloomberg reported on Friday that the EPA administrator, who must now legally be described as "embattled" at least once in every article about him, faces a new probe from the EPA's internal watchdog, this one focused on the cut-rate room he secured for himself during his early days in Washington.
Pruitt got the sweetheart deal on the room — $50 a night, and only on nights he was in town — from the wife of a prominent energy lobbyist who partially owned the condo where he stayed. The EPA's lead ethics officer, Kevin Minoli, had previously ruled the highly unusual housing arrangement did not violate federal ethics rules concerning gifts. But two Democratic congressmen, Don Beyer and Ted Lieu, had requested that Minoli focus on other ethics issues surrounding the agreement.
It has previously been reported that the lobbyist, J. Steven Hart, had business with Pruitt during his tenure at EPA, a revelation that led to Hart's resignation from his firm. Officials at the EPA say that Hart and Pruitt's interaction did not meet the definition of lobbying. That's a distinction Minoli is likely to explore.
This is at least the 11th investigation Pruitt faces, from both within the EPA and congressional committees, over various alleged lapses in ethics. These range from exorbitant spending on a personal phone booth to giving staffers suspiciously large raises to more exorbitant spending on first-class travel.
But as long as President Trump likes him, Pruitt probably isn't going anywhere.