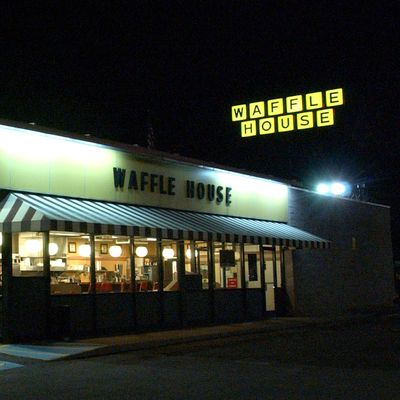 A Waffle House in North Carolina.
Photo: Jim Stratford/Bloomberg via Getty Images
A gunman armed with an AR-15 and wearing only a jacket opened fire at a Waffle House restaurant near Nashville early Sunday morning, killing four people, all in their 20s, and injuring four others.
Police have identified 29-year-old Travis Reinking of Morton, Illinois, as the gunman. Reinking fled the scene on foot, shedding his jacket in the process, and later putting on pants.
The suspect remains on the run from authorities, and has been added to the Tennessee Bureau of Investigation's Top 10 Most Wanted list. Police said he may be in possession of two more guns.
Reinking has a history with law enforcement. He was arrested by Secret Service agents for being in a restricted area near the White House in July 2017. After that incident, authorities seized four of his guns, including the AR-15 used in Sunday's shooting, and revoked his Illinois gun license. But Reinking's father said he had given the guns back to his son. Police who searched his apartment could not locate all of the firearms, leading them to believe that he may still be armed.
Police said that Reinking sat in his truck for several minutes before opening fire in the Waffle House parking lot, injuring two people, then entering the 24-hour establishment in Antioch, Tennessee, with an assault-style rifle and shooting. Three people were killed at the scene, and another died in a nearby hospital. Police identified the victims as Joe R. Perez, 20, Taurean C. Sanderlin, 29, Akilah DaSilva, 23, and DeEbony Groves, 21.
The gunman's rampage ended when a patron wrested away his gun.
That man, 29-year-old James Shaw Jr., rushed the shooter and managed to toss the suspect's rifle over a counter.
"When he came in, I distinctively remember thinking that he is going to have to work for this kill," Shaw said. "I had a chance to stop him and, thankfully, I stopped him."
In the aftermath of the shooting, Nashville's mayor pleaded for new gun laws.