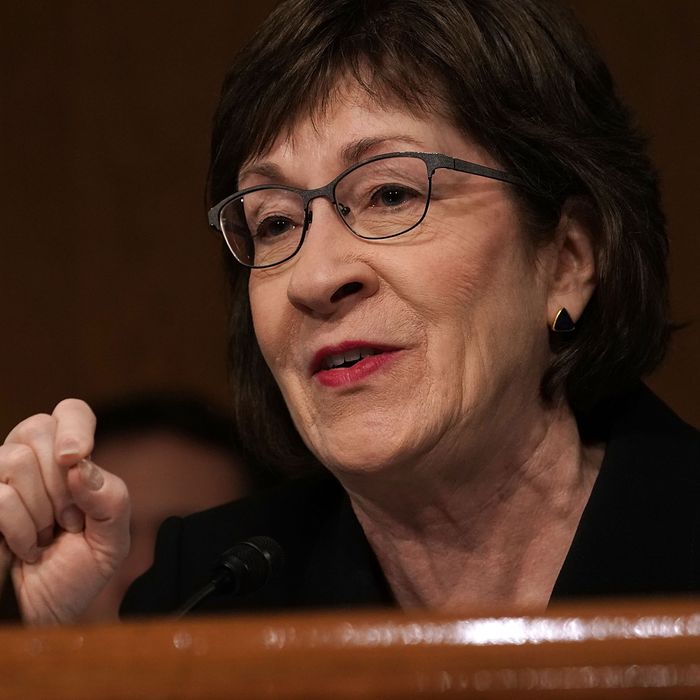 With a 51-49 margin in the Senate, Republicans can't afford to lose Susan Collins and others who don't like the idea of redoing the omnibus on the fly.
Photo: Alex Wong/Getty Images
Reports continue to bubble up that the White House and its conservative House GOP allies are thinking about using the super-obscure "rescission" process to undo or redo a vast swath of appropriations that were enacted in the omnibus spending bill Trump signed less than three weeks ago.
The idea is to placate conservatives who have been raging on television and social media about the $1.3 trillion in appropriations the omnibus included, and about Trump's failure to get what he wanted in the way of border wall funding. Rescissions represent a "claw back" of previously appropriated money under procedures that allow for Congress to approve them by a simple majority vote (unlike the omnibus, which needed 60 Senate votes to avoid a filibuster). They haven't been used for years, and in the past were not normally used to reverse decisions made so very recently, particularly when the president's party was in control of Congress. But then this isn't a normal president or a normal GOP.
You can see how this idea would have some currency in the House, where conservatives walk tall and are perpetually enraged by having to accommodate Democrats on issues like appropriations. Accordingly, it's being reported that House Majority Leader Kevin McCarthy is the one working with the White House (and specifically with new presidential economic adviser Larry Kudlow) on a rescission package.
But prospects for this do-over in the Senate look pretty grim. Predictably, Republican appropriators, who crafted the omnibus through tough negotiations stretching back to last summer, are not real happy about the idea of their handiwork being unraveled so quickly, as the Washington Post reports:
Two Republican "cardinals" — powerful lawmakers who chair Senate Appropriations subcommittees — said Monday that they were perplexed by the talk of a rescission bill just weeks after the passage of the omnibus.




"I'd obviously have to look at what's in it, but I do not understand reopening a hard negotiation on a budget package that has just been completed," said Sen. Susan Collins (R-Maine), who chairs the subcommittee on transportation, housing and urban development, and related agencies….




Asked Monday if appropriators were throwing cold water on the notion of pursuing rescissions, Sen. Lisa Murkowski (R-Alaska) said, "Well, this one is."
Collins and Murkowski are famously independent senators; they did, after all, join with John McCain to stop the GOP's best shot at an Obamacare repeal last year. And their discouraging words on rescissions were echoed by Senator Richard Shelby, who has just been confirmed as Thad Cochran's replacement as Appropriations Committee chair. Shelby didn't slam the door on rescissions, but clearly dislikes the idea:
Shelby said that pursuing rescissions could make it difficult to come to the necessary bipartisan compromise needed to craft spending legislation for fiscal 2019, which starts on Oct. 1: "If we cut a deal with somebody, we want to honor it, okay?"
Another appropriations "cardinal," Lindsey Graham, was more direct: "It's going nowhere."
Beyond the appropriators, though, other signs of opposition and even derision are emerging from the GOP Senate ranks. Bob Corker, whose retirement has liberated his tongue, denounced both the rescission talk and the 100 percent symbolic pending House vote on a balanced budget constitutional amendment as a crock:
This is all a bunch of window dressing, you know that. It's all for show. As is the balanced budget amendment.
Keep in mind that Republicans have a narrow 51-49 margin in the Senate these days. Additionally, John McCain's presence for any given vote is problematic. So it would take a lot of public and private lobbying to get the GOP Senate Caucus in line for a rescission package.
Unless, of course, this really is all "window dressing," and the plan at most involves House passage of rescissions on a party-line vote and then an extended period of conservative and White House attacks on Senate RINOs and Democrats for insisting on all this runaway spending — the spending agreed to less than three weeks ago.
This is all happening at a time when it was generally assumed the substantive work of this Congress had come to a close aside from Senate confirmations. So House Republicans have plenty of time for empty ideological gestures, egged on by their erratic president.