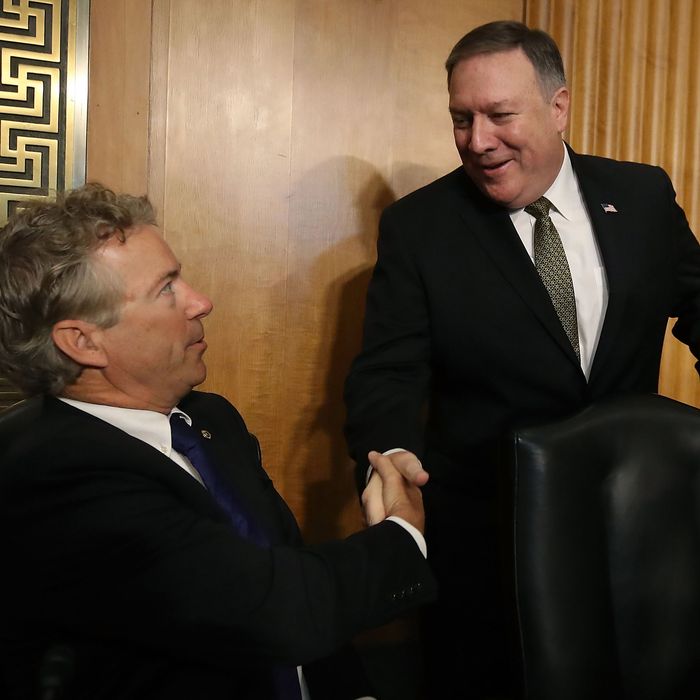 A Paul hangs over Pompeo's nomination.
Photo: Mark Wilson/Getty Images
The Senate Foreign Relations Committee is about to reject Mike Pompeo's nomination as secretary of State, a rebuke with few precedents in modern American history — and he is all but certain to assume leadership of the State Department, anyway.
On Monday, the committee is expected to vote against endorsing the CIA director's promotion to the State Department. Pseudo-libertarian Rand Paul intends to join the committee's ten Democratic members in shooting down Pompeo's appointment. But the committee vote is a mere formality; Senate rules will still allow Pompeo's nomination to advance to the floor, regardless. And the former conservative congressman has no known opposition among Republican senators who aren't named after objectivist philosophers, while multiple Democrats seeking reelection in red states this fall are expected to compensate for Paul's dissidence.
Nevertheless, Pompeo is poised to enter the State Department with the unenviable distinction of being the only secretary of State in modern history who failed to secure a Senate committee's seal of approval. And Pompeo's co-partisans are a feeling a bit bitter about that fact, with Senator Bob Corker telling CNN that in "ordinary times, he would be confirmed overwhelmingly … We just live in a very partisan environment.
Corker's probably right. Five Democrats who currently oppose Pompeo's nomination voted to confirm him as CIA director in January 2017. Some of these senators have explained their dissonant positions by claiming that the qualifications for secretary of State and CIA director are different. That's (banally) true. But the latter position is arguably more powerful than the former, and the principal source of progressive opposition to Pompeo — his history of engaging in anti-Muslim demagoguery — would seem relevant to either post. One illustrative chapter from that history: Shortly after the Boston Marathon bombing, the then-congressman gave a speech on the House floor in which he falsely claimed that Muslim leaders had refused to condemn the attack, and contended that this silence "made these Islamic leaders across America potentially complicit in these acts," while also casting "doubt upon the commitment to peace among adherents of the Muslim faith."
The tolerance for explicit prejudice against Muslims in the United States is so robust that in a slightly less "partisan" moment, Pompeo easily won confirmation as CIA director. The fact that his ascent to the top of the State Department will be a more turbulent one is a point in partisanship's favor.
Meanwhile, the road to confirmation looks even rockier for Pompeo's would-be replacement. On Monday, more than 100 retired admirals and generals submitted a letter to the Senate Intelligence Committee expressing concern about Gina Haspel's nomination for CIA director.
"While the public record concerning Ms. Haspel is incomplete, there are multiple uncontested reports that she ran a CIA 'black site' prison, at which at least one detainee, Abd al-Rahim al-Nashiri, was repeatedly tortured, including by waterboarding," the former military officers write. "In addition to her role in overseeing and implementing torture, Ms. Haspel also appears to have strongly advocated for and played a key role in carrying out an order to destroy 92 videotapes of individuals in U.S. custody being subjected to torture. She did so despite federal court orders requiring preservation of all records pertaining to detainee abuse, and over the objections of congressional leaders, the Director of National Intelligence, Director of Central Intelligence, two successive White House counsels, Department of Justice officials, and the vice president's top lawyer."
The letter goes on to implore senators to reject Haspel's nomination, if public reports on her record hold up under scrutiny.
Still, Haspel has her champions — most conspicuously, the CIA itself. Federal agencies are not, typically, supposed to publicly pressure elected officials to confirm their desired political appointees. And any administration that was sincerely concerned about the "deep state" attempting to inappropriately influence democratic governance would not tolerate such a pressure campaign. But, on President Trump's watch, the CIA is waging an unprecedented PR blitz to get Haspel through the Senate.
Somewhat ironically, this norm-defying attempt to get Trump's appointee confirmed appears to be motivated, at least in part, by a desire to maintain independence from the president. As the New York Times reports:
The campaign to secure Ms. Haspel's confirmation reflects the view of many officials inside the C.I.A., who see her as the agency's best chance to keep a political partisan from being installed as director.




…The openly political nature of the current director, Mike Pompeo, who is awaiting confirmation as secretary of state, frustrated some within the agency. And before Ms. Haspel's nomination, other conservative Republicans, like Senator Tom Cotton of Arkansas, were floated as possible choices for Mr. Trump.




Ms. Haspel, by contrast, is a known quantity inside the C.I.A. She is a longtime clandestine officer who has done tours overseas, knows how to run intelligence operations and has no widely known political views. As for her role of running the prison when a suspect was waterboarded, Ms. Haspel is seen inside the C.I.A. as having loyally followed lawful orders.
It is quite plausible that the alternative to Haspel will prove to be more ideologically conservative — and personally deferential to Donald Trump — than she would be. But this possibility is less of a reason to support Haspel's nomination than to lament the fact that America's national-security Establishment debased itself so thoroughly in the early years of this century that the eminently qualified alternative to Donald Trump just happens to be complicit in war crimes.