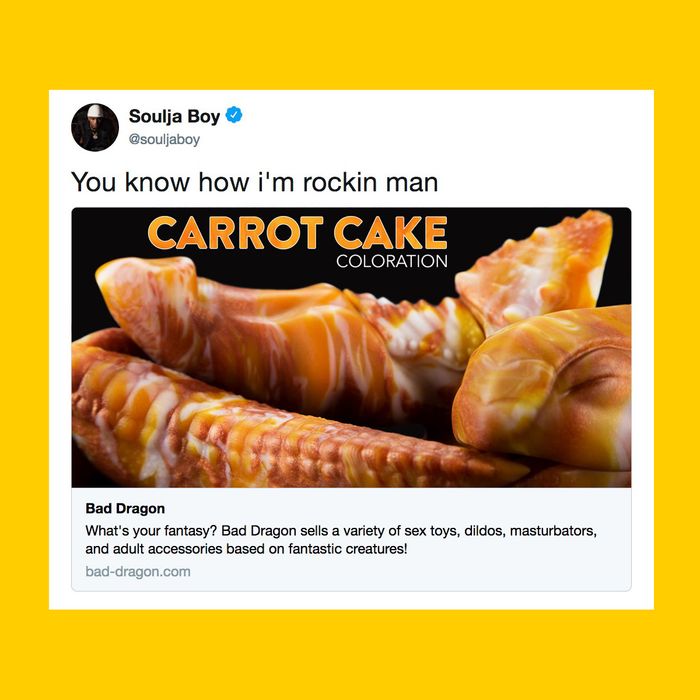 About a decade ago, the rapper Soulja Boy Tell 'Em hit the big time with his breakout single, "Crank That (Soulja Boy)." It reached the top spot on the Billboard charts, spawned a viral dance in an era where that was difficult to do, and became a defining musical moment for the first decade of the new millennium. Even if you didn't like hip-hop, you — yooooooouuuu — couldn't escape the track.
Soulja Boy's star has since faded, but he's still active on social media promoting his music, talking to fans, and offering bits of inspiration to his followers. He is also helping sell all sorts of dildos, thanks to an inadvertent partnership with Bad Dragon, a company whose "main mission is to do their part in 'making fantasies real' for individuals who want to indulge in their fantasies a little deeper." In other words, sex toys modeled on the genitalia of all sorts of fantastical beasts.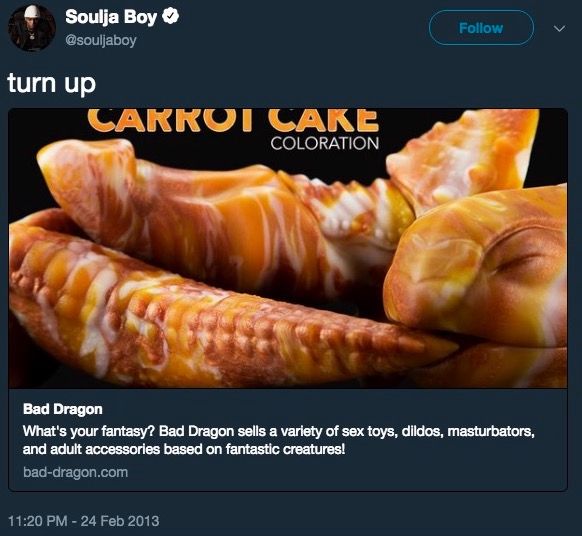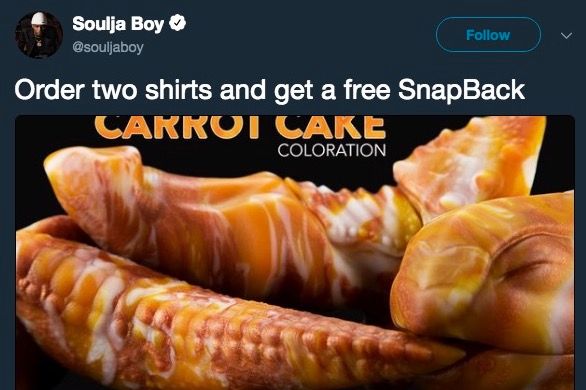 Eagle-eyed readers will notice that these tweets were first published in 2013. Soulja Boy was originally linking to sodmgco.com, not bad-dragon.com. SODMG (or Stacks on Deck Money Gang) is Soulja Boy's record label, and while he also owned sodmg.com at the time, his merchandise was sold via the "sodmgco" domain.
At some point, Soulja Boy's ownership of sodmgco.com expired, and he declined (or forgot) to renew it. That allowed someone else to snap it up in 2016, where they set it to redirect to Bad Dragon's selection of alien-penis wares. Twitter will show a preview of a website linked in a tweet in a format known as Cards. If a URL redirects to another domain, it will pull a preview from that end point.
The prankster (they declined to give their name, so let's call them H) bought the sodmgco.com domain in October 2016. H works in information security in the U.S., and says, "I read an article by another infosec professional that dealt with similar domain takeovers and wanted to see what I could find."
H says that they're not involved with the furry community, nor are they affiliated with Bad Dragon. "I didn't do it for personal attention, just for the laughs," they said. "I thought it funny to make it look like Soulja Boy tweeted about furry sex toys a bunch back in 2013."
And to be fair, it is very funny. It really does look like Soulja Boy tweeted about furry sex toys in 2013.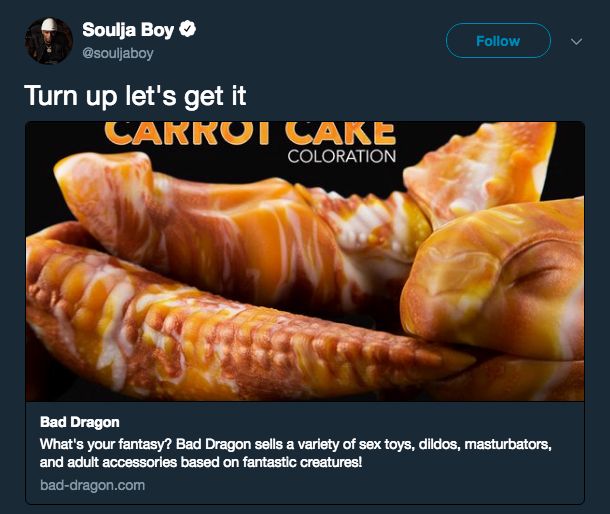 Update: Shortly after publishing this piece, Soulja Boy, or someone on his behalf, deleted the tweets we embedded in this story. You can still find many other instances on Twitter however.