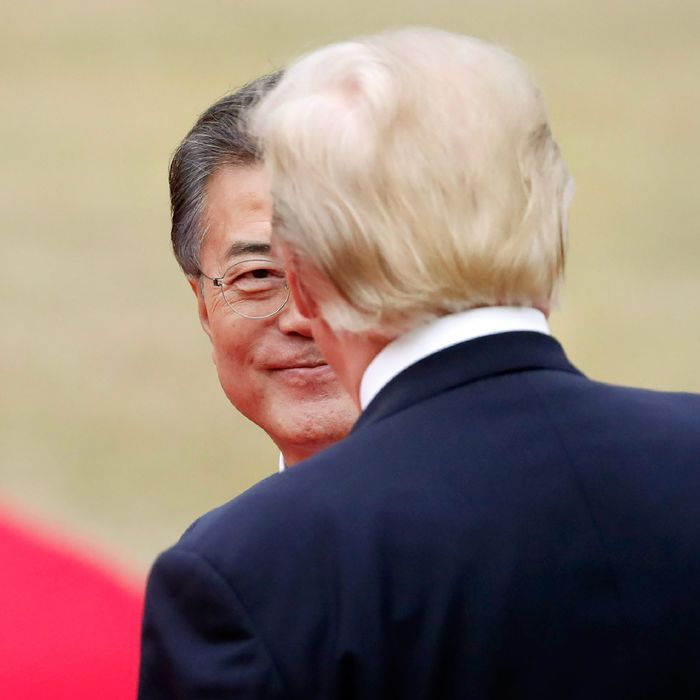 You're the man, Donald.
Photo: Kim Hong-Ji/AFP/Getty Images
South Korea is banking on a strategy of shameless flattery to get what it wants from President Trump. And it might just work.
On Monday, President Moon Jae-in joined the chorus of people who have declared that Trump should be awarded a Nobel Peace Prize for helping bringing North and South Korea to the bargaining table.
"It's really President Trump who should receive it; we can just take peace," Moon's office quoted him as saying.
The idea that Trump should be honored by the Norwegian Nobel Committee posthaste is one that has quickly gained currency among American conservatives. Last week, right-wingers from Senator Lindsey Graham to Fox News' Laura Ingraham expressed their enthusiasm for this proposition. Even some more sober-minded experts, like Eurasia Group's Ian Bremmer, jumped on board.
Incredibly, Trump is near the top of British oddsmaker Ladbrokes' list of possible winners this year. (Kim Jong-un and Moon Jae-in come out ahead.)
Moon and North Korean president Kim Jong-un met at the demilitarized zone that divides their two countries, with both leaders expressing hope for peace and an official end to the Korean War. Though skepticism abounds about Kim's motives, he said over the weekend that he would give up all of his nuclear weapons if the United States promised not to invade his country.
But, though the Nobel Committee has made some very suspect choices over the years — Henry Kissinger comes to mind – it is exceedingly unlikely that it would reward a man who threatened nuclear war against his adversary on Twitter, even if the rosiest scenarios concerning peace on the Korean peninsula come to pass.
In any case, Moon Jae-in's comments are unlikely to be a reflection of his actual views. But by positioning Trump as the ultimate man of peace, as the master negotiator Trump portrays himself has (despite very limited evidence to back it up), Moon is hoping to nudge the U.S. president away from confrontation, and toward tangible peacemaking achievements. If Moon has to earn a Nobel Prize in flattery to achieve this goal, so be it.