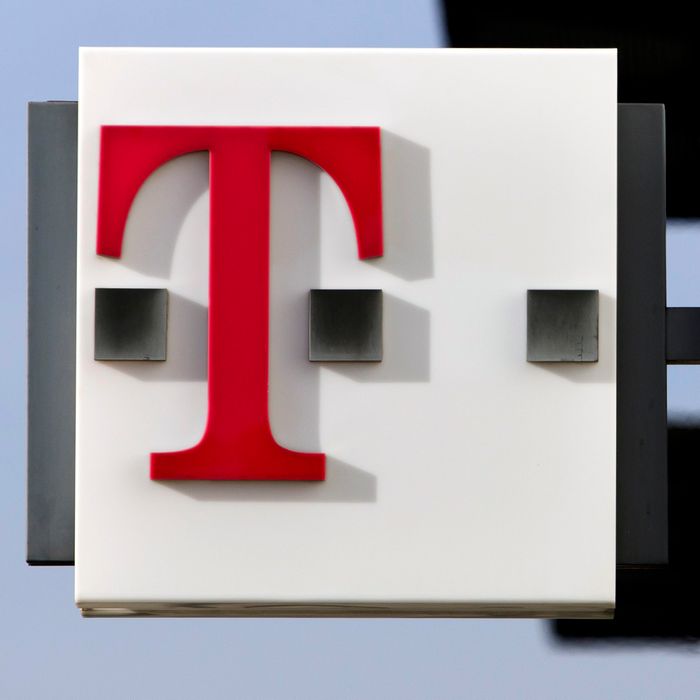 Not an also-ran anymore?
Photo: Martin Divisek/Bloomberg via Getty Images
After years of flirting with the idea, Sprint and T-Mobile, the third- and fourth-largest U.S. mobile carriers, finally announced plans to merge on Sunday.
If approved, the $26 billion, all-stock deal would reduce the number of major U.S. carriers to three: Verizon, AT&T, and the new company, which would retain the T-Mobile name and be run by its CEO, John Legere. The revamped T-Mobile would boast about 100 million subscribers. Currently, Verizon has about 150 million subscribers and AT&T about 141 million.
The crucial question remains: Will federal regulators allow the deal? In 2014, Sprint and T-Mobile dropped plans to merge in the face of opposition from the Obama administration. Federal regulators, concerned about dwindling consumer options, had already denied AT&T's purchase of T-Mobile in 2011.
But there's a new, big-business-loving administration in town, and the companies are clearly hoping they'll have better luck in a very different regulatory environment — the Trump's administration's out-of-character challenge to an AT&T/Time Warner merger notwithstanding.
Regulatory issues aren't the only hurdle on the way to a Sprint/T-Mobile union. The companies again came close to a deal late last year, but scrapped it at the last minute over control issues. Sprint is majority-owned by the Japanese conglomerate SoftBank, and its founder, Masayoshi Son, had been resistant to give up control over the new company. In the end, Deutsche Telekom, which owns most of T-Mobile, will retain a 42 percent stake in the company, and SoftBank will control 27 percent.
Son has met personally with President Trump, vowing to create thousands of jobs in the U.S. In an administration that takes everything personally, the two men's rapport may help grease the skids for federal approval.
The companies say that coming together will better prepare them to build a next-generation 5G network that will compete with Verizon's and AT&T's.