The most disorienting spot in New York right now is Tenth Avenue at West 34th Street. The escalator from the subway station spits you out into a noisy clearing, surrounded by a forest of cranes and unfinished skyscrapers. Flatbed semis trundle over cratered asphalt, and a narrow footpath squeezes between traffic lanes and construction fences. Each time I pick my way across this changing terrain, another tract of sky has vanished, replaced by a half-flayed juggernaut. The only constant is din.
Until 2001, this vast low-lying nowhere just south of the Javits Center was the West Side rail yards, extensive enough to evoke the days when train tracks, rather than highways, webbed the nation and made it run. Then the Bloomberg administration, which coveted the 2012 Olympics, saw that it could be the basement level of a future stadium for the Jets The Games fell through and the football plan died, but the real-estate ambitions endured. The air above the trains was reconceived as future land, so it could be zoned, sold, planned, decked over, and built upon with a new, broker-friendly riverfront name: Hudson Yards. The result is the country's largest and probably most complex construction project: 18 million square feet on 28 acres, $25 billion, 16 megatowers standing en pointe between active tracks, 20 restaurants above, and down below, the mouth of a cross-river tunnel that may never get finished. In the middle of it all stands the Vessel, Thomas Heatherwick's 15-story basket of staircases that lead only to one other. That $200 million tchotchke is set down on a nominally public plaza, owned and operated by the corporation that owns and operates almost everything else on the site: the Related Companies.
For now, office workers at 10 Hudson Yards, the only completed skyscraper of the bunch, can look west and down and see the striped glare of Amtrak cars in the Western Yards, the open square between Eleventh and Twelfth Avenues, from 30th to 34th Street. Soon, that too will receive its platform and its towers and its acres of irrigated greenery, and the rail yards will become a subterranean memory. Eventually, the phrase Hudson Yards will become like Canal Street, Mill Lane, or Fresh Meadows, place names that evoke long-obliterated features of the landscape.
Back when Hudson Yards still consisted of nothing more than a zoning map, a contract, and a very large sum of money, I looked at this open caldera on the edge of Manhattan and tried to summon the future I knew was coming. I estimated which cloud a 1,300-foot tower would block, mentally filled in the open vista from the High Line with a glass-and-steel forest, imagined this emptiness teeming with 40,000 office workers and residents. A few days ago, I visited the site again, beginning my tour on the Hudson River Greenway, where I slowed my bike to take in the project's almost unreckonable scale. Although Related would no doubt like to confine the name to its site, Hudson Yards now refers to an area that extends as far north as the Lincoln Tunnel and practically to Penn Station, an expanding skyscraper habitat.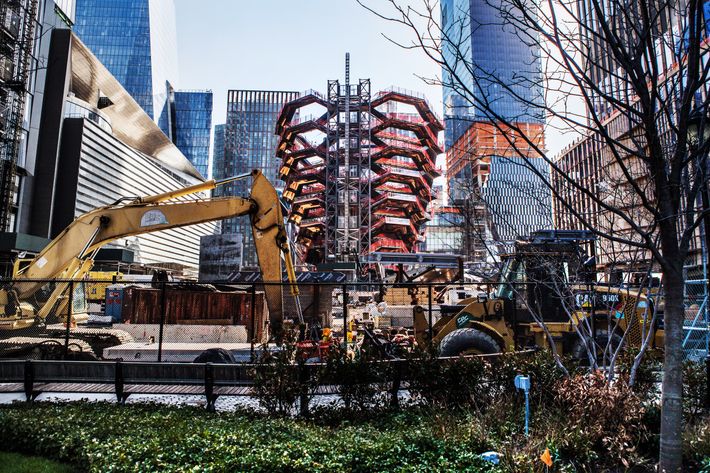 At the corner of Tenth Avenue and 30th Street, the High Line smacks into 10 Hudson Yards, designed by Kohn Pedersen Fox, where a glass wall forms the border between the chaos of construction and the quiet hum of corporate New York. I've been alerted that someone with a blue scarf will meet me in the lobby. Actually, two blue-scarfed young women are there to greet me and together they march me up to the "experience center," where the giant world outside the windows is reproduced in a scale model and digital projections.
I meet Stephen Winter, Related's siren of CEOs, who has lured the cream of corporate Manhattan to the far west side. Winter waves his arms over the model's four-foot towers, pointing out the law firms, hedge funds, consultants, and luxury goods companies that have already abandoned once unbeatable midtown addresses to come here. Then he leads me into a wrap-around panorama where I can look out a (virtual) upper-story window to (a picture of) the Verrazano-Narrows and the Atlantic beyond. A touch of a button, and the image changes: we're down on the plaza now, where a scattering of avatars stroll and chat, as if they inhabited a low-rise college campus rather than a hyperdense agglomeration of supertall towers. A young white man in an untucked shirt is vigorously explaining something to a fellow digi-dude. This may be a corporate creation, the demo suggests, but real life—or at least a prosperous distillate of real life—will soon flow in.
Upstairs, it already has. Winter ushers me into an elevator so quiet and quick that we're practically teleported to the offices of Boston Consulting Group, which look like a Hamptons timeshare on the 42nd floor: wooden beams, farmhouse tables, and plenty of sunshine. A hanging stairway zigzags through a three-floor atrium, and employees lounge on brightly colored sofas with three states spreading out beyond the curtain wall.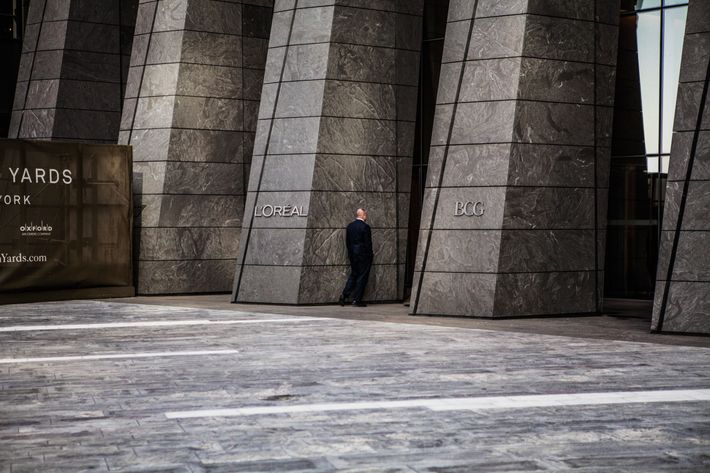 I'm beamed back down to ground level—well, actually 30 feet above the street—and emerge onto the concrete slab that will become the landscaped plaza. Hudson Yards is the 21st century Rockefeller Center, but on an oppressive scale, its immensity amplified by all the glass. Encircled by high icy walls, I feel miniaturized, a mouse in a crevasse. And yet at the same time, this five-acre open space feels miraculously … cramped. It's not just the fences and the construction equipment cluttering up the site; it's the way the complex's elements are wedged in for maximum efficiency. The Shed's steel wickerwork shell is getting its bubble wrap-like cladding. The gantry structure retracts on giant wheels, tucking against the condo tower behind it. Now, though, it's fully extended, and the space between the Shed and the tower's entrance feels like a bottleneck. I step into the cavernous atrium of the seven-floor shopping mall. Looking back out through James Carpenter's colossal glass wall, I see the looming skeleton of Heatherwick's Vessel, silhouetted against the afternoon light.
Everywhere, the logic of size dominates. Related hired a bouquet of architects as a hedge against corporate uniformity. Then it imposed corporate uniformity on them all. The sloped roofs and jammed-together masses of Kohn Pedersen Fox's 10 and 30 Hudson Yards, the same firm's black gridded cage at No. 55, Foster + Partners' white-gridded cage at No. 50—all these towers look as if they were shaken out of the same box. In a world of Rolex watches and $1,000 meals, creativity is the one unaffordable luxury.
Anyone who's followed the project has been able to watch the ideas drain away. David Childs's design for 35 Hudson Yards (a.k.a. the Equinox Tower) evolved from a set of telescoping oval cylinders skirted in limestone drapery to a twisting tube of limestone-and-glass mesh woven like a finger trap. Neither of those versions made it to reality: all that's left of Childs' attempts at flair is a rectilinear base striated in limestone and dimpled on each facade. The residential tower designed by Diller Scofidio + Renfro with Rockwell Group followed the same regressive path. In the design's first public iteration, the tower morphed in stages from a square-sided base to a bundle of four elliptical tubes, passing through a middle zone that had a puffy, tufted look, like corseted flesh. This vaguely racy part of the design didn't last. What's left is a simpler double-decker tower: right angles below, curves above.
Until recently, this wedge of the city barely registered on New Yorkers' mental map, and even now the mammoth buildings seem to be sprouting in some other, CGI version of Manhattan, separated by fences and No Entry signs from the city we actually occupy. For thousands of people this will be the neighborhood they know best, the endpoint of their commutes, the place to buy groceries and go to the movies, maybe even live. And yet it's hard to imagine that New York's unruly body will ever fully absorb this company town, or come to love a high-rise, high-end elevated office park. Hudson Yards is an executive's idea of a diverse city, a place without bargains, ugliness, friction, or decay. No pandemonium allowed.