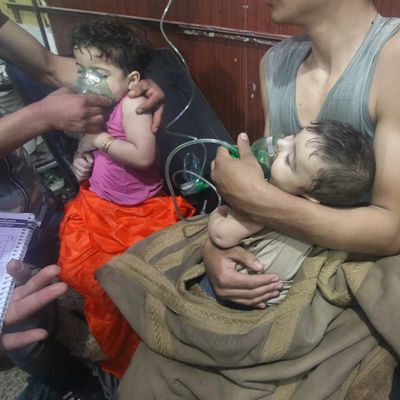 Syrian children affected by the Assad regime's alleged chemical weapon attack receive medical treatment.
Photo: Halil el-Abdullah/Anadolu Agency/Getty Images
Dozens of Syrian men, women, and children were killed in an apparent chemical weapon attack by Assad regime forces on a rebel-held area near Damascus on Saturday night. Rescue workers reported that at least 42 people suffocated to death, and more than 500 were injured in the attack, which struck a building in the besieged eastern suburb of Douma. The symptoms of the injured seem to be consistent with a chlorine gas attack. Many of the dead and injured were foaming at the mouth and showing other signs of respiratory distress. Doctors also reported smelling a chlorine-like odor on the victims. Horrifying images and footage of the aftermath showed piles of collapsed bodies, including small children and infants. Here is an activist-shot video which purports to show young survivors of the attack being treated for their exposure to the chemical agent:
The Assad regime characteristically denied that it was involved in the strike.
The U.S. says it is investigating the attack and working to confirm that chemical weapons were used. But Sunday morning on Twitter, President Trump didn't seem like he needed any convincing after seeing the images of the victims:
It's not yet clear if Trump, who recently announced that the U.S. would be withdrawing from Syria, will respond to the attack with a strike on Assad's forces, as he did following another high-profile chemical weapon attack last year. Appearing on ABC's This Week on Sunday morning, White House Homeland Security Adviser Thomas Bossert said that the Trump administration "wouldn't take anything off the table" when it came to the U.S. response. Later Sunday, UN Ambassador Nikki Haley also announced that the U.S. was calling for a UN Security Council meeting over the attack.
But while Saturday's attack had a high and highly visible number of victims, close observers of the conflict in Syria were quick to point out the Assad regime's use of chemical weapons has remained frequent, including after the strike Trump ordered last year. The Global Public Policy Institute's Tobias Schneider explained on Sunday that there have been credible reports of the regime using chemical weapons an average of once a week since 2013, calling the weapons "an intrinsic component of [the Asssad regime's] way of war."
On Sunday, Syrian state media reported that the regime had reached a deal with the rebels in Douma to relocate to another opposition-held city. If true, that would seem to indicate that the chemical weapon attack had that goal, as the Washington Post's Louisa Loveluck noted in her response to the news:
This post has been updated to include additional context regarding the attack.