On Monday night, Channing Tatum and Jenna Dewan announced that they are separating after nearly nine nears of marriage. As with all breakups of beloved celebrity couples, we have questions. Specifically, what the hell app did the two of them use to write this announcement?
The Notes App screenshot as a method of communicating a celebrity breakup, apology, or life announcement has a storied history online. Taylor Swift used the Notes App to call out Kanye West and Kim Kardashian West after that Snapchat story. Demi Lovato, on Instagram, used the Notes App to announce her split from Wilmer Valderrama. Zayn Malik did the same on Twitter following his recent breakup with Gigi Hadid. (Though Malik, an artiste, opted to use the monospaced-font layout, so his looks a little different; more like an Instagram poem, less like a screenshotted press release.)
Hadid, however, broke the mold a little. She announced the separation with a screenshot of white text on a black background. (Really makes the red heart emoji pop off the page.) And she wasn't the only celebrity to ditch the Notes App recently, either: Chris Pratt and Anna Faris announced their split in an iMessage screenshot, of all things.
Which brings us back to Tatum and Dewan. Their announcement, with its yellow-to-purple gradient background looks something like the PowerPoint preset you might have used to jazz up a title slide in the ninth grade to distract from the fact that you put very little effort into the rest of the presentation. A trendy choice given how popular gradients are — looking at you here, Instagram, Lyft, Tinder, and just about every preset app that comes on your iPhone — in design. It is, in case you were wondering, not actually a screen cap of a PowerPoint slide. I spent an embarrassing amount of time fiddling around with slide-formatting trying to re-create Tatum and Dewan's note. This was the closest I could get.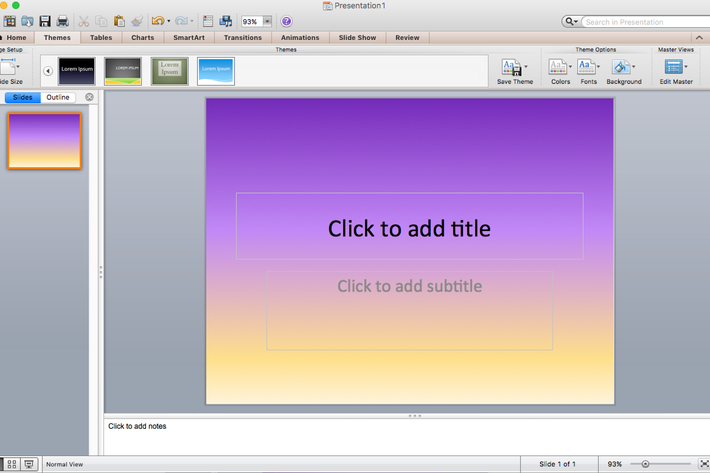 Before you @ me with some configuration you've made that looks closer to the breakup note in question, please accept my professional opinion that Tatum and Dewan did not spend that much time playing around with the colors on this, and thus did not announce their separation using a PowerPoint slide.