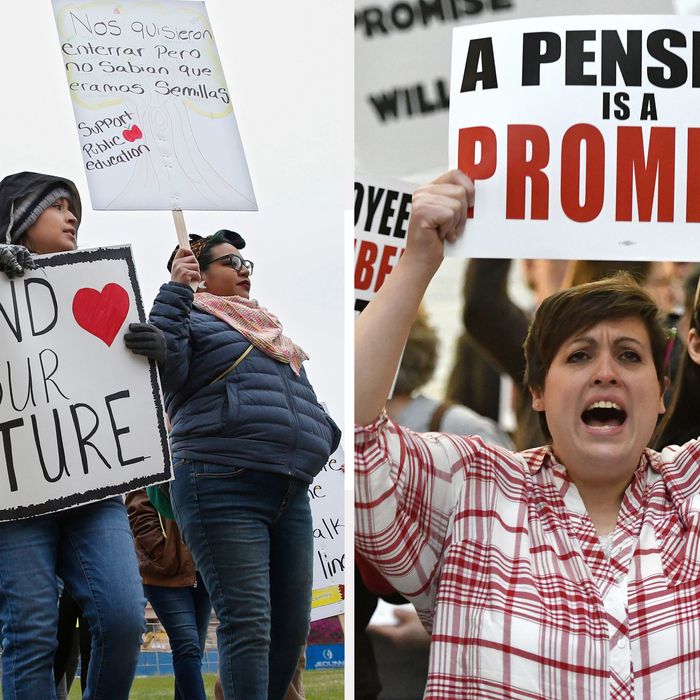 Teachers' strikes over pensions in Kentucky and education funding in Oklahoma represent protests that could spread to the ballot box in November.
Photo: Sue Ogrocki/AP/REX/Shutterstock, Timothy D. Easley/AP/REX/Shutterstock
As promised, teachers walked off the job in two conservatives states today and descended on their state capitols to pressure Republican-controlled legislatures for action on pay, benefits, and education funding. In Kentucky, all public schools are closed (some were already scheduled to be closed for spring break) and thousands of teachers will protest in Frankfort against a bill enacted by the legislature last week that seriously eroded pension rights. In Oklahoma a planned teachers' walkout is spreading despite a significant pay raise passed by the legislature late last week. About 30,000 teachers are expected to attend a state capitol protest today demanding a restoration of past cuts in education spending and broader pay raises.
In both cases the teachers' actions represent a broad conflict between education advocates and the tax-cutting/spending-cutting mania of conservative legislators. The Kentucky protests are principally against a pension "reform" bill that Governor Matt Bevin is expected to sign (though Attorney General Andy Beshear is threatening to sue to stop it) that creates a new and shaky system for new teachers. But teachers are also upset about Bevin's proposed state budget, which shifts a significant portion of the cost of public education from the state to local jurisdictions (some of which are cash-strapped and/or dependent on poor revenue bases) while directly cutting some educational categories. Neither side seems likely to bend or compromise right away.
In Oklahoma, strike leaders are calling the $6,100 pay raise whipped through the legislature last week and signed by Governor Mary Fallin a "down payment" on the improvements they need to address a severe teacher shortage and severe economic conditions for many in their ranks. As Vox reported before the strike:
Teachers want raises for all state employees for the next three years, plus more spending on health care and pension plans. They also want lawmakers to restore millions of dollars in school funding that have been cut in the past decade. To meet the educators' demands, state legislators need to come up with $3.3 billion over three years to pay for it.
The package Fallin signed amounted to $447 million in new money. That's far short of what teachers are demanding, so as in Kentucky, it's unclear how quickly teachers will return to the classroom.
A similarly broad-based protest heading toward a strike seems to be developing in Arizona as well. There Republican governor Doug Ducey and the GOP-controlled legislature seem less likely to respond positively than did Fallin and Oklahoma Republicans.
This wave of strikes and protests began in West Virginia, where a nine-day teachers' strike produced significantly higher pay for teachers and other state employees in March.
Education has long represented the state government public investment that voters care most about. It will be interesting to see whether the unrest over education spending in red states contributes to midterm setbacks for the GOP this November.