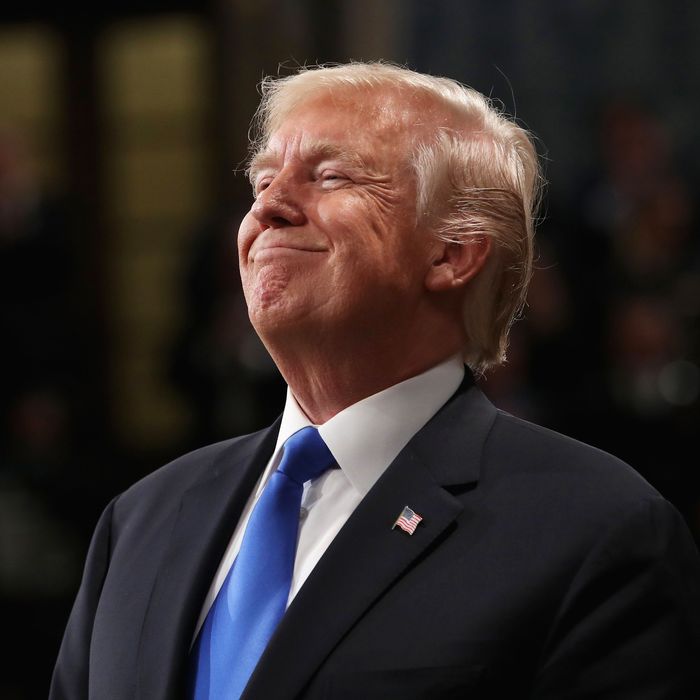 Donald Trump smiles.
Photo: Win McNamee/Bloomberg via Getty Images
On Friday, North Korean dictator Kim Jong-un and South Korean president Moon Jae-in came together for a historic meeting that resulted in a once-unimaginable pledge: The two nations will work to officially end the Korean War and denuclearize the peninsula.
Who deserves credit for this momentous meeting and the push toward peace? Donald Trump, says South Korean foreign minister Kang Kyung-wha. "He's been determined to come to grips with this from day one," she recently told CNN.
And he may soon have a Nobel Peace Prize to show for it. Trump and Kim are currently the favorites to win the prize, according to one British oddsmaker, and some of Trump's aides are telling reporters that a lasting thaw between North and South Korea should win Trump the award.
Senator Lindsey Graham, not one of Trump's biggest fans in the upper chamber, agrees. "It's the biggest change since the end of the hostilities," Graham said on Fox News Friday. "What happened? Donald Trump convinced North Korea and China he was serious about bringing about change."
"We're not there yet, but if this happens, President Trump deserves the Nobel Peace Prize," he said.
Some of Trump's biggest boosters have removed the caveat. They're ready to give him the Nobel now. "Unlike Obama, he actually deserves the Nobel Peace Prize," Fox News host Laura Ingraham tweeted. Carl Higbie, a former Trump administration official who lost his job after he was outed as a bigot, is ready for the Nobel committee to act now. And Bill Mitchell is eager to find out if the heads of liberals will "explode" when Trump gets the award.
Donald Trump Jr. is not so sure about the enthusiasm, though. Of course, he thinks his dad deserves the Nobel, but he doesn't think he'll get it. "Remember who decides this stuff," he tweeted. "Noting [sic] to do with merit as we have all seen. The globalist elite would never give him that win."
Don Jr. might be wrong though. Even today, with a lasting peace in Korea still a question mark, some Trump skeptics have boosted his candidacy. Eurasia Group head Ian Bremmer, who admits that he's been "critical of Trump foreign policy missteps," is giving credit where credit is due. "Trump, Xi, Moon and Kim together get my vote for the Nobel Peace Prize," he tweeted, including Chinese president Xi Jinping among those deserving recognition, but leaving out one man who belongs in that group too: Dennis Rodman.