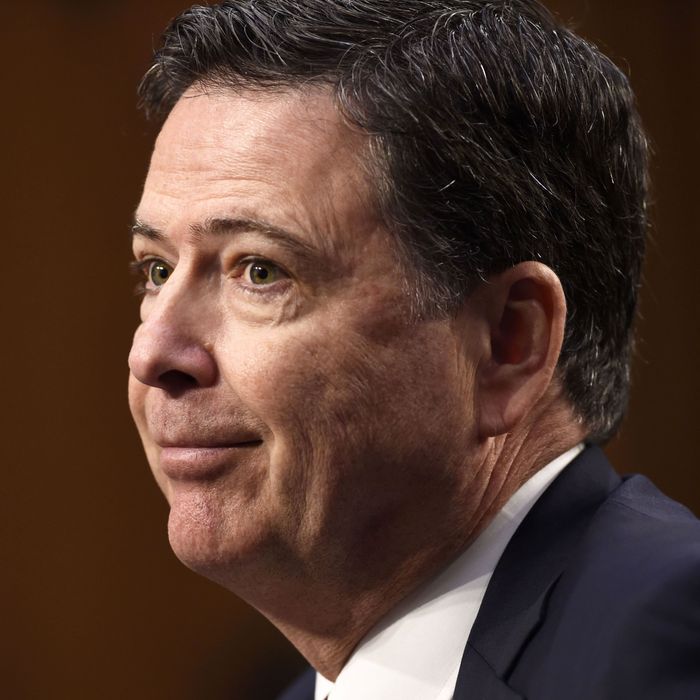 A man who is about to make a lot of money off of helping Donald Trump get elected.
Photo: Saul Loeb/AFP/Getty Images
James Comey's literary debut doesn't hit the shelves until next week, but its juiciest excerpts are already ubiquitous in the "fake news" media. The most important revelation thus far (as measured by reader interest) is that Donald Trump was obsessed with convincing the FBI director that he would never pay to watch sex workers urinate — but was equally concerned with persuading Comey to investigate whether the Kremlin had a tape of him engaging in such an activity, anyway.
The most damning excerpt from Comey's memoir, however, has nothing to do with bodily fluids. Rather, it concerns the immediate reaction of the president-elect — and his advisers — upon receiving their first briefing on Russian interference in the 2016 election. Here's a summary of the relevant passage, from the Associated Press:
Comey also writes extensively about his first meeting with Trump after the election, a briefing in January 2017 at Trump Tower in New York City. Others in the meeting included Vice President Mike Pence, Trump's first chief of staff, Reince Priebus, Michael Flynn, who would become national security adviser, and incoming press secretary, Sean Spicer. Comey was also joined by NSA Director Mike Rogers, CIA Director John Brennan and Director of National Intelligence James Clapper.




After Clapper briefed the team on the intelligence community's findings of Russian election interference, Comey said he was taken aback by what the Trump team didn't ask.




"They were about to lead a country that had been attacked by a foreign adversary, yet they had no questions about what the future Russian threat might be," Comey writes. Instead, they launched into a strategy session about how to "spin what we'd just told them" for the public.




Comey says he had flashbacks to his time investigating the Italian Mafia as a federal prosecutor in Manhattan, thinking that Trump "was trying to make us all part of the same family."




"For my entire career, intelligence was a thing of mine and political spin a thing of yours. Team Trump wanted to change that," he writes.
There are only two plausible explanations for this reaction: Trump's team lacked curiosity about the threat of Russian interference because they were complicit in it — or else, because they considered protecting the integrity of future American elections to be less important than protecting the president-elect's public image. Either way, the incoming administration saw a hostile power's attempt to compromise America's elections as a public relations problem, not a foreign policy one.
From one angle, this tells us little that we didn't already know. The president's public remarks on Russian interference — his denials of its very existence, and myriad attempts to diminish its significance — also suggested that he was either complicit in the crime, or far more concerned with protecting the glory of his election than the security of his country's votes.
Nevertheless, Comey's anecdote adds to our understanding of the White House's attitude toward Russian meddling in two ways. First, it suggests that a myopic disregard for the threat posed by foreign interference in U.S. elections wasn't peculiar to Trump, but rather, common to his whole team. Second, it reveals how shameless the incoming administration was in that myopia. The FBI director is not a crisis PR consultant. Trump, Pence, Flynn, and Priebus could have at least feigned an interest in the aspects of Russian interference that were relevant to Comey's expertise while he was still in the room, even if their overriding concern was ultimately about managing political fallout. The former FBI director interprets this lack of restraint as a deliberate effort to make him feel like one of the guys. But given how the administration proceeded to govern, it seems just as likely that it did not even occur to Trump that he should be concerned with aspects of Russian meddling unrelated to his personal political standing — and that his underlings had already been conditioned to put the president-elect's narcissistic obsessions above all else.
Since that briefing in January 2017, there is no indication that Trump's team grew more interested in safeguarding America's electoral process. In February of this year, Michael Rogers, outgoing head of U.S. Cyber Command and the NSA, told Congress that the president had never "specifically directed" him to take any action to prevent Russian meddling in this fall's upcoming midterm elections. One of the only significant actions our government has taken to prevent such meddling came last month, at the insistence of congressional Democrats: In the omnibus budget bill, the party secured a $380 million appropriation for protecting American voting systems from cyberattacks.
In the weeks since he signed that budget into law, Trump has savaged the legislation, complaining that Republicans had to fund Democratic priorities that were "a waste of money." He has never gone into significant detail about precisely which appropriations he finds wasteful, and why.