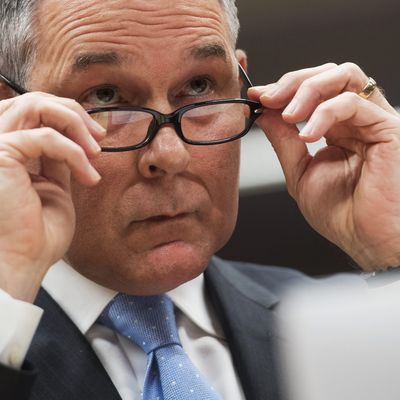 EPA administrator Scott Pruitt.
Photo: AFP Contributor/AFP/Getty Images
Among the many scandals currently dogging EPA administrator Scott Pruitt, who may be the most corrupt member of the Trump administration outside of the president himself, is his lavish spending on security.
Pruitt has a 20-person security team that protects him around the clock at the cost of $3 million each year. He often flies first-class instead of coach, because of what he's called "unprecedented" threats. Earlier this week, President Trump defended Pruitt's security spending by referencing these "death threats."
Lawmakers got a look at some of those threats this week, and a group of Democrats found them to be not very credible or very threatening.
On Wednesday, CBS News allowed the rest of us to get a look at the threats by publishing parts of an August 2017 report from the EPA's inspector general. The report contains 13 threats directed at Pruitt. They vary in severity, the method in which they were delivered, and the level of detail used to describe them. Here they are ranked from least to most menacing.
Tier 5 – More odd than frightening
13. An email that said: "Hi, I am considering dumping the old paint I just scraped off of my home outside your office door on Tuesday."
Tier 4 – I suppose you have a right to your opinion
12. Protesters who tried to disrupt a Pruitt speech that was closed to the public.
11. A letter without any "overt threatening language" that came from someone in prison.
10. A social-media threat in which someone said he is unhappy with Pruitt's policies and wanted to express his displeasure.
9. A postcard that said: "Dear Mr. Pruitt, CLIMATE CHANGE IS REAL!!! We are watching you. For the sake of our planet, our children & our grandchildren, will you be a reasonable man? I repeat, we are watching you! Myrna, Michele, Chris, Signe, Lucy, Olivia and Isabel."
Tier 3 – Veiled threats
8. "Intimidating pictures and statements" mailed to Pruitt's house by a mentally ill person previously known to federal law enforcement.
7. A "threatening Twitter post" direct at Pruitt and Senate Majority Leader Mitch McConnell.
6. A "potentially threatening postcard" from a guy who later apologized to investigators and "expressed regret."
5. A postcard that said: "Get out while you still can, Scott, you are evil incarnate you ignorant fuck"
Tier 2 – Legitimately disturbing statements
4. A message that read: "I hope your head administrator dies a very painful and horrible death through poisoning. Please explain the scientific method to this freaking neanderthal."
3. A Facebook message sent to Pruitt's daughter that said, "I hope your father dies soon, suffering as your mother watches in horror for hours on end."
Tier 1 – Honest-to-God death threats
2. An email sent to Oklahoma senator James Lankford that said the sender was planning to assassinate Pruitt, Trump, and Mike Pence.
1. A tweet that said: "Pruitt, I'm gonna find you and put a bullet between your eyes. Don't think I'm joking, I'm planning this."