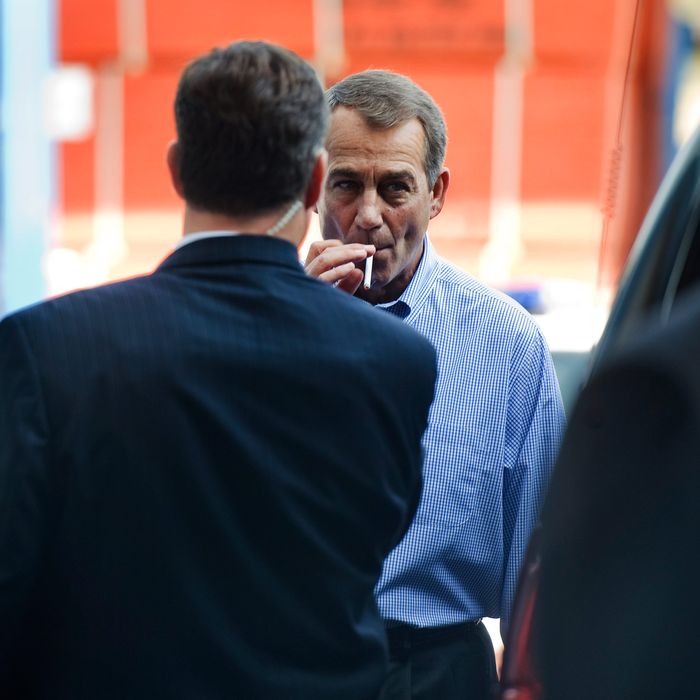 Smokin'.
Photo: Tom Williams/CQ-Roll Call,Inc.
On the same day it became clear that Paul Ryan won't run for reelection, former House Speaker John Boehner is showing the man who replaced him in 2015 that there is life after leadership.
The former Ohio congressman announced Wednesday that he's joining the advisory board of Acreage Holdings, one of the nation's largest cannabis companies.
A notorious cigarette smoker who left his office reeking so badly of smoke that Ryan had to "detoxify" it upon moving in, Boehner was an ardent opponent of legal weed when he was in Congress. In 2011, he said he was "unalterably opposed to the legalization of marijuana or any other FDA Schedule I drug. I remain concerned that legalization will result in increased abuse of all varieties of drugs, including alcohol."
In an interview with Bloomberg, Boehner explained that his position has evolved. "Over the last 10 or 15 years, the American people's attitudes have changed dramatically. I find myself in that same position."
Also joining Boehner at Acreage is Bill Weld, the former Republican governor of Massachusetts. "We view this advocacy that we get from these two gentlemen as immensely positive for the industry," Acreage's president George Allen said of the two former politicians, neither of whom admits to ever smoking weed.