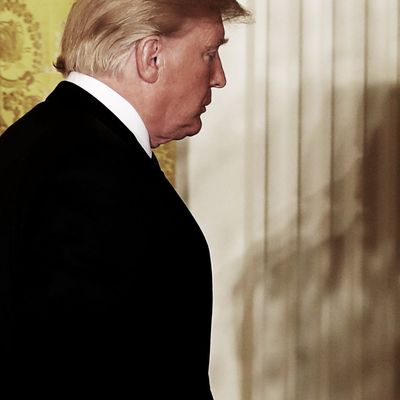 Trump.
Photo: Chip Somodevilla/Getty Images
The FBI raid on the home and office of Trump fixer and attorney-sort-of-at-law Michael Cohen has predictably triggered President Trump. In addition to raging against Robert Mueller both on camera and on Twitter, Trump is reportedly subjecting everybody around him to angry tirades. In case you don't have time to read all the tirade coverage, here are the best quotes from freaked-out sources, ranked in ascending order:
5. Quote: "There was fear in Trump's orbit that the president is liable to erupt in anger in coming days, escalating his attacks against Mueller at a time when his attorneys are negotiating a possible interview."
Source: "Trump's orbit"
4. Quote: "Mr. Trump's advisers have spent the last 24 hours trying to convince the president not to make an impulsive decision that could put the president in more legal jeopardy and ignite a controversy that could consume his presidency."
Source: "several people close to Mr. Trump"
3. Quote: "He's sitting there bitching and moaning. He's brooding and doesn't have a plan."
Source: "a Republican close to the White House"
2. Quote: "He's losing his shit," the operative added. "We're at a different level now."
Source: "a GOP operative close to the White House"
1. Quote: "Jesus take the wheel."
Source: "a former White House official"
Sleep well, America.