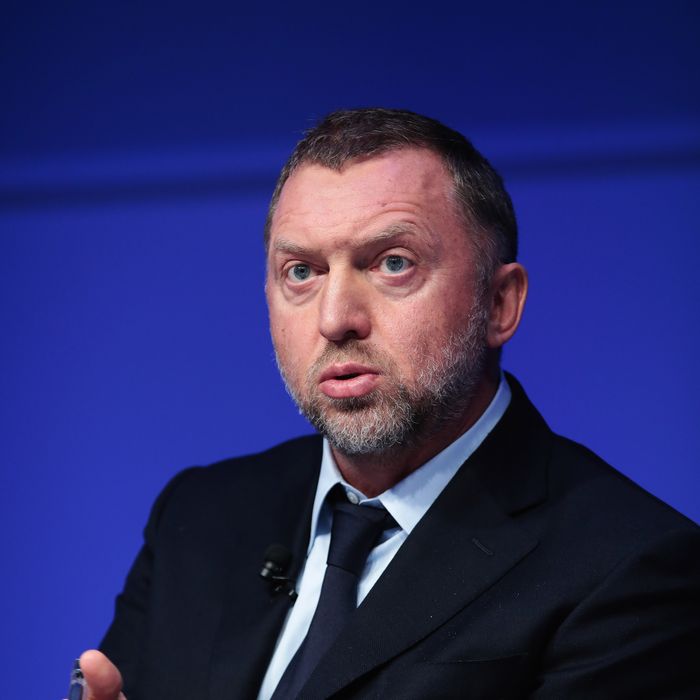 Oleg Deripaska.
Photo: Jason Alden/Bloomberg via Getty Images
Earlier this month, the United States announced a remarkably aggressive set of sanctions against the Russian oligarch Oleg Deripaska and his aluminum company Rusal: The United States would freeze all assets that the metal giant had been keeping in American institutions, prohibit American firms from doing business with the Russian corporation, and slap sanctions on any foreign individual or firm that engaged in commerce with the company.
The impact of this announcement was immediate and profound. Rusal had provided 7 percent of the world's alumina, the raw material for aluminum production. With the company ostensibly sidelined for an indefinite period of time, global aluminum prices surged to a six-year high, while Rusal's share price plummeted by more than half. But the most damaging aspect of the move, from the Russian perspective, may have been the message that it sent — that the U.S. was prepared to destroy Russian firms in the blink of an eye, even at a cost to the global economy, if the Kremlin persisted in interfering in the internal politics of Western democracies.
Fortunately for Moscow, it now appears that the sanctions against Rusal may never actually take effect. On Monday, the Treasury Department extended the sanctions' "wind down" period — a window in which U.S. and foreign entities could complete their unfinished business with Rusal without facing any penalty — by six months, while expressing openness to lifting the sanctions entirely.
"RUSAL has felt the impact of U.S. sanctions because of its entanglement with Oleg Deripaska, but the U.S. government is not targeting the hardworking people who depend on RUSAL and its subsidiaries," Treasury Secretary Steven Mnuchin said. "Given the impact on our partners and allies, we are issuing a general license extending the maintenance and wind-down period while we consider RUSAL's petition [to lift the sanctions]."
The administration's official position is that the sanctions will still go into effect eventually, if Oleg Deripaska does not divest and relinquish control of the firm. But Treasury's actions suggest that it is eager to avoid inconveniencing Rusal's business partners, and thus, that some mutually agreeable arrangement will likely be reached between the U.S. and the company before the wind-down period is through. Or so markets seem to believe: Shortly after Mnuchin's announcement Monday, global aluminum prices nose-dived.
The Treasury Department has accused Deripaska of involvement in money laundering, extortion, and, on at least one occasion, murder. Trump campaign manager Paul Manafort (reportedly) offered the oligarch private briefings on the 2016 presidential race shortly after Donald Trump secured the Republican nomination.