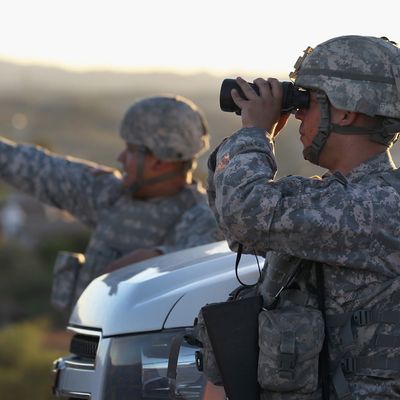 National Guard troops in 2011.
Photo: John Moore/Getty Images
The Trump administration announced on Friday that it would send almost 500 National Guard troops to the U.S.-Mexico border over the weekend, and that up to 4,000 would be available through September, as President Trump attempts a crackdown on newly resurgent border crossings.
NBC News reported that, according to a Pentagon memo, "the troops will not be used for law enforcement or interaction with immigrants unless Defense Secretary James Mattis approves it, and that the troops will be armed only if required for self-defense."
The first round of troops will come from Arizona and Texas, two of the four states that border Mexico.
Trump's move is hardly unprecedented; both President Obama and George W. Bush also sent troops to the border at points during their presidencies, for about a year each.
Border crossings had fallen dramatically just after Trump took office last year, in what some called the "Trump effect." But in recent months, desperate immigrants undeterred by the president's tough talk have been attempting to enter the United States in larger numbers again. According to U.S. Customs and Border Protection, authorities apprehended 50,308 people in March 2018, up drastically from 16,588 people in March 2017.
Trump has become newly obsessed with immigration in recent days, inspired by fear-mongery segments on Fox and Friends about a large group of Central Americans fleeing desperate conditions in the hope of gaining asylum in the United States. That group's organizers have since decided to end their march in Mexico City.
Trump is also reportedly still furious that he did not secure money for his beloved border wall in a massive spending bill he signed in March, and is determined to press the immigration issue in the months ahead.
As the New York Times reported on Friday, many people who actually live near the border are puzzled by the need for national guard troops to manage what they view as a humanitarian crisis, not a political one.
"It's not a matter of security," Tony Martinez, the mayor of Brownsville, Texas, told the Times. "Immigrants don't want to migrate. They have to. This charade that Washington, or Trump more particularly, is imposing on the border is nothing more than empty rhetoric."