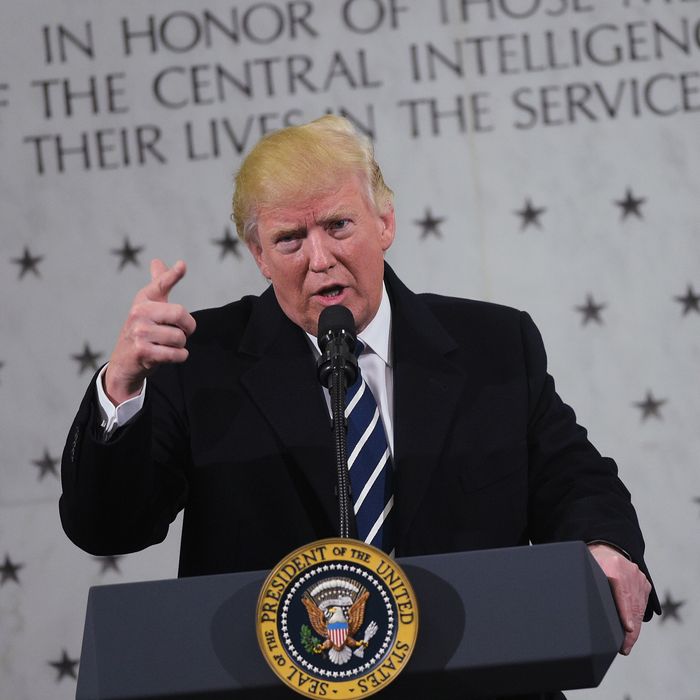 Trump speaks at CIA Headquarters on January 21, 2017.
Photo: MANDEL NGAN/AFP/Getty Images
When asked about his plan for winning the war on terrorism during an interview with Fox & Friends in December 2015, Donald Trump suggested that U.S. forces needed to start targeting terrorists' family members.
"We're fighting a very politically correct war," Trump said. "And the other thing with the terrorists — you have to take out their families. When you get these terrorists, you have to take out their families! They care about their lives, don't kid yourselves. They say they don't care about their lives. But you have to take out their families."
As with so many remarks Trump made during the campaign, it wasn't clear if this reflected some deeply held belief, or was just something he said because he thought it sounded cool. Trump doubled down at a debate days later, saying terrorists "may not care much about their lives, but they do care, believe it or not, about their families' lives" — even as his opponents noted that would violate the Geneva Convention. But months later, Trump tried to walk back his remarks, telling CNN that he wouldn't necessarily want to kill terrorists' family members, though we need "to go after them."
It still wasn't clear what exactly that meant, but a new report in the Washington Post suggests that at the very least, Trump doesn't care about minimizing civilian casualties. Here's an anecdote from Trump's visit to the CIA's drone operations floor during his first full day in office:
Later, when the agency's head of drone operations explained that the CIA had developed special munitions to limit civilian casualties, the president seemed unimpressed. Watching a previously recorded strike in which the agency held off on firing until the target had wandered away from a house with his family inside, Trump asked, "Why did you wait?" one participant in the meeting recalled.
It's possible Trump was confused by the logistics, not the idea that the CIA wouldn't want to kill the target's family. But the remark is still telling.
Though there are no reports that Trump specifically urged U.S. forces to target terrorists' family members, under his administration the number of civilians killed in U.S. airstrikes has increased drastically. Just before Trump took office, the U.S. military said at least 188 civilians had been unintentionally killed by coalition strikes since the beginning of its operation against ISIS in Iraq and Syria in 2014. By the end of 2017, the count was up to 831 civilians killed.
Some experts say the U.S. military is seriously undercounting the number of civilian casualties, but agree that it jumped in the last year — possibly because Trump has been far less involved in combat decisions than his predecessor. Airwars, a journalist-led watchdog group, reported in January 2018:
Non-combatant deaths from Coalition air and artillery strikes rose by more than 200 per cent compared to 2016, rising to between 3,923 and 6,102 civilians estimated killed during the year according to Airwars tallies. By another measure, roughly 65% of all civilian deaths from Coalition actions tracked by our team since 2014 occurred over the last 12 months. This unprecedented death toll coincided with the start of the Trump presidency, and suggested in part that policies aimed at protecting civilians had been scaled back under the new administration.