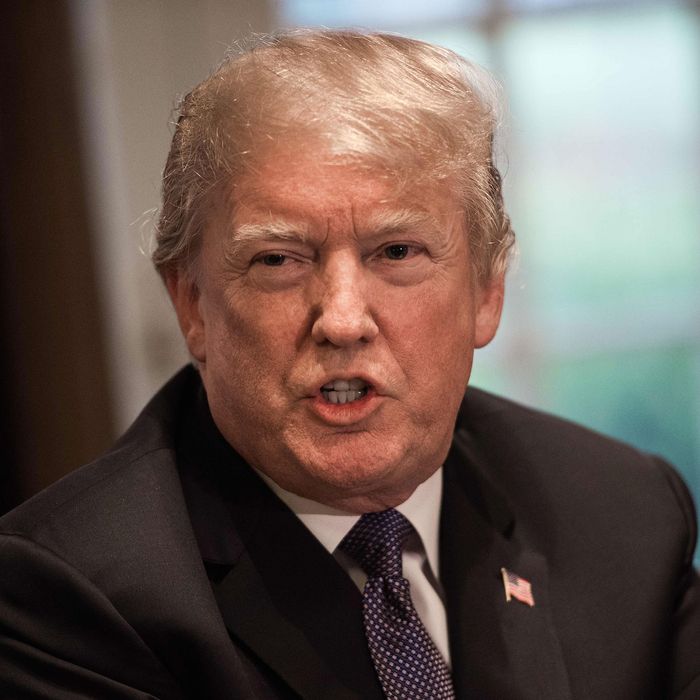 Happy weekend!
Photo: Nicholas Kamm/AFP/Getty Images
Hours before Barbara Bush's funeral (which he is not attending), Donald Trump reminded the world that "presidential" means something very different than it did back when she was First Lady.
Reacting to a revealing New York Times story about his fixer Michael Cohen, the president lashed out at the story and one of its authors, Times reporter Maggie Haberman (initially misspelling her name as "Habberman" before correcting himself).
The story in question details the typically respectful manner in which Trump has treated Cohen over the years: "with gratuitous insults, dismissive statements and, at least twice, threats of being fired, according to interviews with a half-dozen people familiar with their relationship." Trump's contempt may come back to bite him, now that the legally imperiled Cohen will have a clear incentive to cooperate with authorities at the expense of his boss.
Though Cohen has repeatedly expressed undying loyalty to Trump, the president's lawyers and advisers acknowledge that there is a strong chance he will cooperate with prosecutors.
The "drunk, drugged up loser" Trump was referring to is likely erstwhile Trump aide Sam Nunberg, who was quoted in the story. Nunberg recently went on a bizarre, one-day spree of TV appearances, during which he appeared to be under the influence of alcohol.
This is at least the second time that the president has tried to downplay his relationship with Haberman, perhaps the best-known reporter on the Trump beat, who is known for having the president's ear. It is still not a convincing routine.
Saturday's tweets weren't the president's first angry dispatches of the weekend. Late Friday night, he accused former FBI Director James Comey of conniving to create the office of the special counsel, and, perhaps most egregiously, misspelling special counsel.
Also, in a since-corrected tweet, the president appeared to confuse former Democratic National Committee Chairwoman Debbie Wasserman Schultz with Pulitzer Prize-winning playwright Wendy Wasserstein, who died in 2006.
We're in good hands, folks.