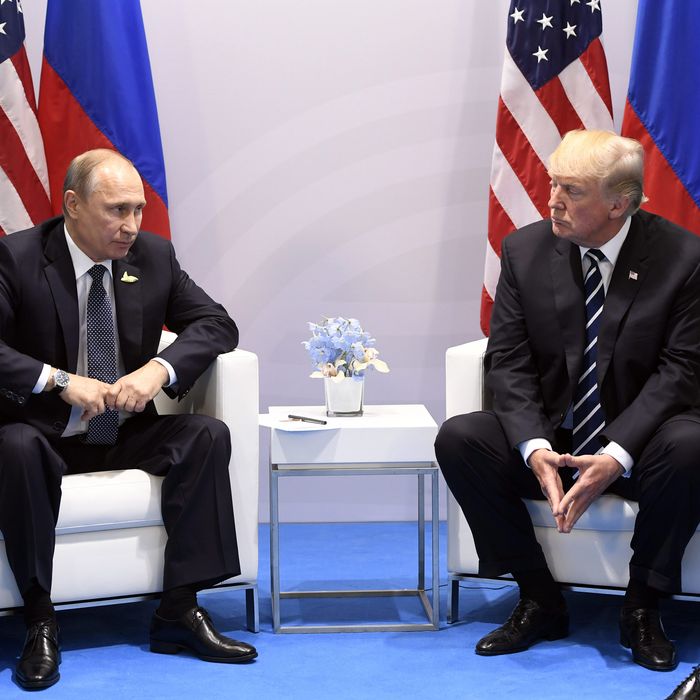 Best friends forever no more?
Photo: Saul Loeb/AFP/Getty Images
It has long seemed like Vladimir Putin could commit no infraction grave enough to earn President Trump's ire. Interfering in the U.S. election? Well, that could have been anyone, and Trump benefited from the meddling anyway. Banning a Putin critic from running in a presidential election? Congrats on the victory, Vlad. Poisoning an ex-spy in England? Maybe Russia was involved, but that doesn't mean Putin is a bad guy.
Even as his administration imposed sanctions on some of Putin's inner circle after the U.K. poisoning, Trump has studiously avoided antagonizing the Russian despot on a personal level, for reasons that remain somewhat mysterious.
But the president's patience finally ran out Sunday morning, 444 days into his presidency. The impetus was a devastating chemical attack in Syria, likely launched by the government of Bashar al-Assad against a rebel stronghold. Dozens were killed in excruciating fashion, prompting Trump to finally go after his buddy.
Russia has backed the Assad regime since Civil War broke out in Syria in 2011, but has been more directly involved since 2015, when it began military operations in the country. The country has joined with Assad and Iran to encircle and bomb Eastern Ghouta, the site of Saturday's attack, killing more than 1,600 people, according to the Syrian Observatory for Human Rights. But Russia denies that chemical weapons were used on Saturday, as does the Assad regime.
Trump launched an ineffectual cruise-missile attack in response to a similar chemical-weapons attack last year, but last week he advocated pulling U.S. troops out of Syria altogether, a move that would hand Russia even more control of the country's fate.
Even though he broke new ground by admitting that Putin had actually done something wrong, Trump immediately returned to more familiar terrain. His next tweet attacked President Obama.