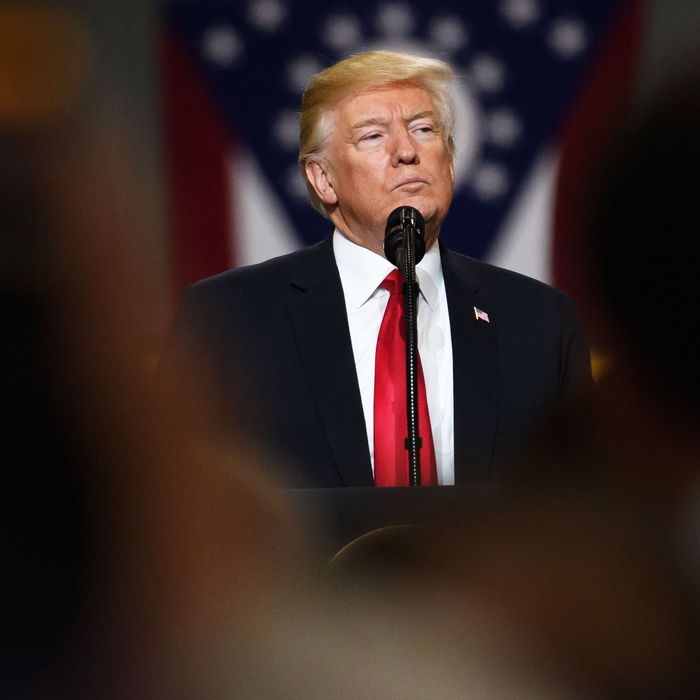 He didn't get any mellower over the weekend.
Photo: Jeff Swensen/Getty Images
In an early Monday-morning tweet, President Trump showed no sign of backing off from trade-war threats with China that have rattled the stock market, made farmers nervous, and prompted swift retaliation from America's foremost geopolitical rival.
As Axios's Jonathan Swan reported in March, the Chinese government has long wanted to import more vehicles into the American market, but Trump and his nationalist allies aim to make their mission more difficult. Currently, as Trump tweeted, China imposes 25 percent tariffs on American vehicles, and mandates that foreign companies form joint ventures with Chinese firms. By contrast, America imposes only a 2.5 percent tariff on foreign car companies, though China has not made much of a dent in the U.S. market yet.
The auto issue could open up another combat arena in the brewing trade battles between the two countries.
The Trump administration already imposed tariffs on Chinese steel and aluminum, and announced tariffs on a planned additional $50 billion worth of Chinese products, with Trump threatening much more. In response, China announced $50 billion worth of tariffs on American products last week, ranging from whiskey to trucks.
Farmers and others who would be hit by tariffs hope the president is merely bluffing with his grand threats, but Trump's misguided notion that America is perennially getting screwed over by its trading partners is one of his bedrock philosophies.
There has been conflicting evidence on whether his administration will actually follow through with anything beyond the steel and aluminum duties that have already gone into effect. On Friday, Treasury Secretary Steven Mnuchin said "there is the potential of a trade war," but that he hoped it wouldn't come to that.
On Meet the Press on Sunday, hard-line trade adviser Peter Navarro said Trump's threats were not "a negotiating tactic," and, of course, the president himself seems to be spoiling for a fight. Still, some observers are not convinced that a full-blown conflict is on the way. Goldman Sachs said on Monday morning that it expected an eventual compromise between the U.S. and China.