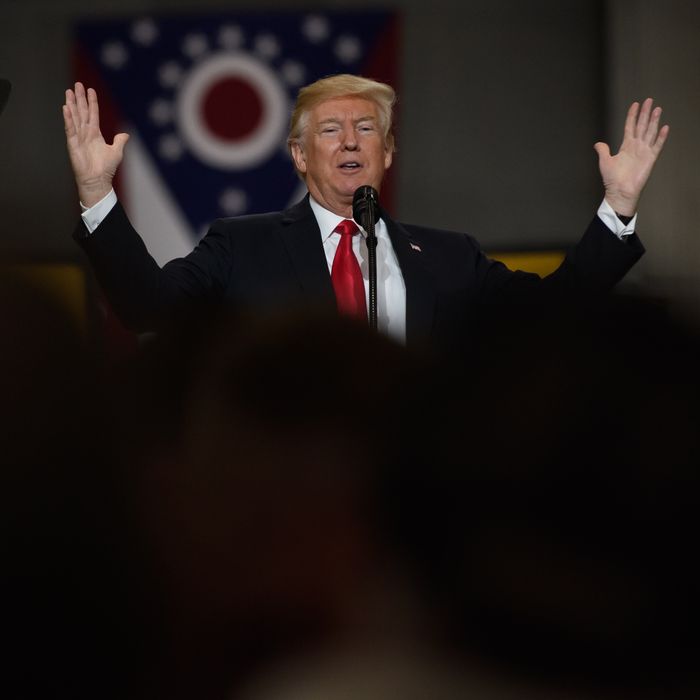 The pseudo-populist in chief at a rally in Ohio last week.
Photo: Jeff Swensen/Getty Images
If President Trump is truly concerned about Amazon's corporate power and impact on the U.S. Postal Service, he may want to call his campaign office. CBS News reports that from 2015 to 2017, the Trump campaign spent almost $160,000 on office supplies at the retailer, according to Federal Election Commission records. The campaign's 379 transactions with the e-commerce giant averaged about $400 each, and the vast majority of orders qualified for free shipping.
It's possible that Trump wasn't aware of where his campaign ordered office supplies, but it stands to reason that if he has always been as concerned about Amazon as he professed on Thursday, he probably would have instructed his campaign staff to avoid giving it any business.
In his weekly Saturday-morning Twitter rant, Trump launched more attacks on the company, falsely accusing Amazon of using the Washington Post as a lobbyist, as well as offering another demonstration of how he does not understand the economics of bulk parcel shipping at the USPS.
Regardless, no one should presume Trump would care about his campaign buying stuff from Amazon, because that would mean he really did care about Amazon. Instead, it's far more likely that the president is lashing out at the company in retaliation for negative coverage of his administration in the Post.