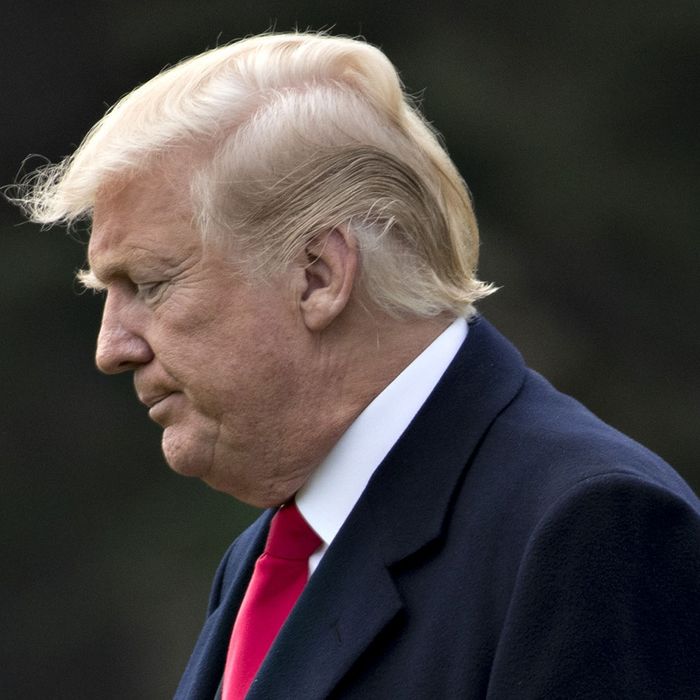 The kleptocrat's dilemma.
Photo: Andrew Harrer/Bloomberg via Getty Images
One of the (many, many) odd things about the Trump presidency is the fact that administration officials routinely lose their jobs for offenses that the president has unambiguously committed himself. For example, this week, a Defense Department staffer resigned after CNN revealed that he had once shared birther conspiracy theories and anti-Muslim sentiments over Facebook. Ostensibly, there is now a consensus that such conduct disqualifies a person from a low-level Executive branch appointment — but not for unilateral command of the world's largest nuclear arsenal.
A similar dissonance has hung over the Trump Cabinet's (many, many) corruption scandals. Tom Price was clearly a shady figure who abused his power to feather his nest — but that is also obviously true of a president who literally rents personal access to himself for $200,000 a year.
All this raises the question of why the president has shown relatively little tolerance toward his underlings when they engage in the most sincere form of flattery. The consensus answer is that Trump doesn't mind corruption (let alone birtherism), but he could do without bad headlines.
And Scott Pruitt has generated an awful lot of those those this week. On Thursday, we learned that the EPA director rented an apartment — at a heavily discounted rate — from the wife of an energy-industry lobbyist with business pending before Pruitt's department; that he tried to get a security special agent, Eric Weese, to abuse his siren for the sake of escaping a traffic jam; and that he routinely fired or demoted EPA officials who questioned his myriad extraordinary spending demands, which included a request for "a bulletproof sport utility vehicle with so-called run flat tires, which keep a vehicle moving even when sustaining gunfire."
So, if Tom Price's chartered flights got him bounced from the administration, you'd assume that Pruitt is not long for the Cabinet.
And yet Trump apparently can't decide whether Pruitt is too corrupt to run the EPA — or just corrupt enough to be his attorney general.
Remember: There's no reason to believe that the president objects to corruption, per se. His concern is bad press. And one of the biggest drivers of bad press, from his perspective, is the Mueller investigation — the probe that Jeff Sessions enabled through his recusal, and that Rod Rosenstein has resolutely refused to sabotage or disband.
Pruitt, meanwhile, is a former state attorney general and an unfailingly loyal servant of the president's agenda. And since Pruitt has already been confirmed by the Senate, Trump could theoretically install him as attorney general — without Senate confirmation — for 210 days. Which is to say: For much more time than it would take for Pruitt to take out Mueller.
And so, even as scandals swarmed around Pruitt this week, Trump was eyeing him for a promotion. As CNN reports:
President Donald Trump floated replacing Attorney General Jeff Sessions with Scott Pruitt as recently as this week, even as the scandal-ridden head of the Environmental Protection Agency has faced a growing list of negative headlines, according to people close to the President.




"He was 100% still trying to protect Pruitt because Pruitt is his fill-in for Sessions," one source familiar with Trump's thinking told CNN.
Now, it's entirely possible that Trump wants to replace Sessions with Pruitt for reasons unrelated to the Mueller probe — or at least unrelated to any plan for killing the Mueller probe. After all, such a move would not reduce the number of ugly headlines about his administration, but rather, radically increase it.
But then, the entire reason why there is a special counsel investigation right now is that Donald Trump has a hard time anticipating the consequences of his own actions.