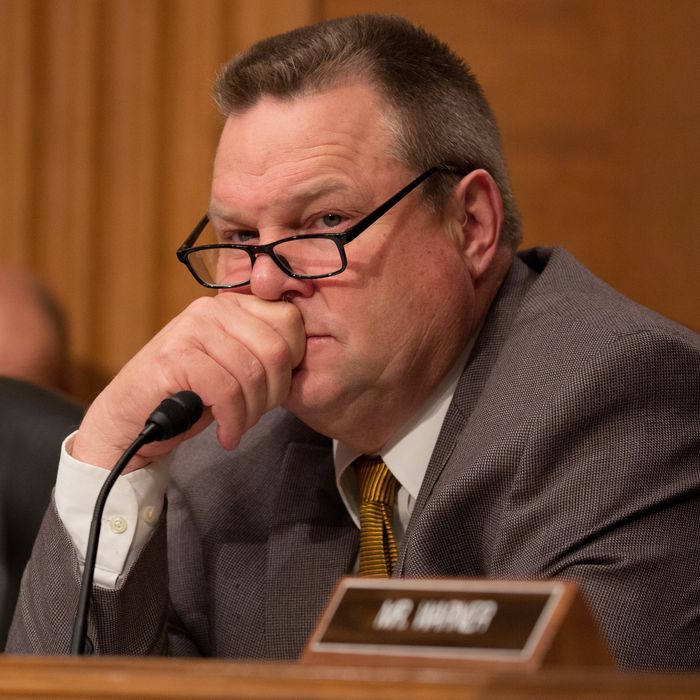 Come at me, bro.
Photo: Tasos Katopodis/Getty Images
On Saturday night, during a raucous Trump campaign rally in Washington, Michigan, that served as direct counterprogramming to the White House Correspondents' Dinner (get it? The president was speaking from a more authentic Washington), President Trump went off on his usual array of targets, including James Comey, trade deficits, the media, and so on. It was typical Trump red meat delivered before an adoring Middle America crowd, with a new target or two tacked on to his usual list of grievances. (Apparently Trump is no fan of the American embassy's location in London.)
Politically speaking, perhaps the most noteworthy thing Trump said is that he has damning information on Montana senator Jon Tester, whom he blames for torpedoing the nomination of Ronny Jackson to become Veterans Affairs secretary. Previously all but ignored by the president, Tester, who faces a tough reelection battle this fall, has become a frequent target of Trump's wrath in the last week.
"Tester started throwing out things that he's heard. Well, I know things about Tester that I could say, too," Trump said. "And if I said them, he'd never be elected again."
The president is upset because Tester, in his role as ranking Democrat on the Senate Committee on Veterans Affairs, informed the public about a wide array of allegations against Jackson, which include drinking on the job and handing out prescription drugs. Those allegations were corroborated by media sources, and also authorized for release by Tester's Republican counterpart, Georgia senator Johnny Isakson*. No matter: Trump has decided that it's Tester alone who is solely to blame for ruining the reputation of Jackson, whom he has called an "American hero."
Trump did not give any further hints about the nature of his supposedly damning information about the senator, but if it's anything like Trump's "proof" that Barack Obama was born in Kenya, Tester may not have too much to worry about.
*The post has been updated with the correct spelling of the name of Georgia senator Johnny Isakson.