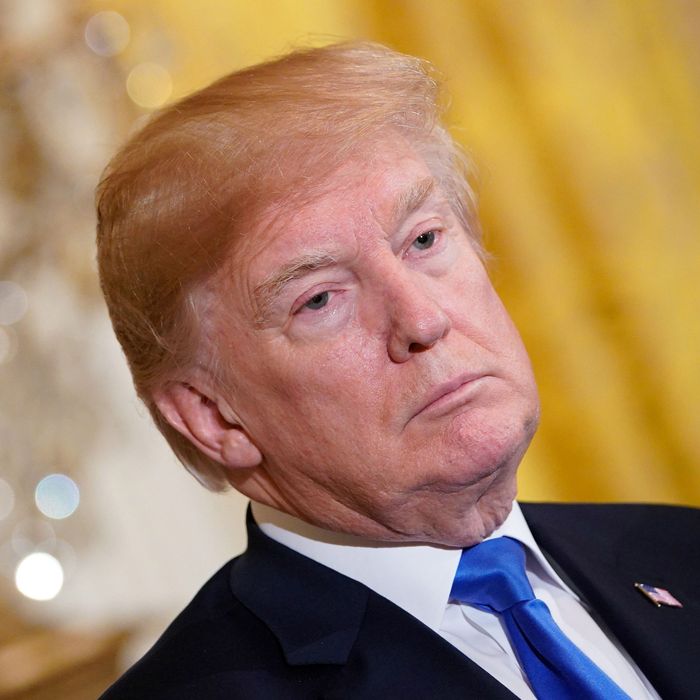 Someone woke up on the wrong side of life.
Photo: Mandel Ngan/AFP/Getty Images
Because he canceled his trip to South America in favor of approving airstrikes against Syria, President Trump had plenty of time on his hands this weekend to seethe. And seethe he did on Sunday morning, going after ex-FBI Director James Comey, who is currently in the midst of a media blitz to promote his new, Trump-bashing book.
Among other nuggets of madness, the president called for the former FBI director to be jailed, coined a new nickname for Bill Clinton (not a terrible one — at least it wasn't "Little Bill"), and again lamented the death of attorney-client privilege. A sample:
The Washington Post has a thorough rundown of the many mistruths and unproven assertions Trump packed in to just seven fewer-than-280-character bursts.
Trump also clarified that when he invoked the extremely loaded term "mission accomplished" on Saturday morning to describe the success of limited airstrikes against Syria, it was very much on purpose, and definitely NOT because he simply didn't know that the phrase has become interchangeable with foreign-policy misadventure.
That's right, folks, he's screwing up on PURPOSE! Everything makes sense now.